FONT
SHARE THIS
MORE STORIES
---
Staging an encore
Details

Jason Vondersmith
Former Sherwood teacher rebounds from middle school play debacle with a documentary, new friends in Westport
Two years removed from a professional ordeal that 'shook me to my core,' playwright Jennie Brown is almost ready to write plays in her Northwest Portland condominium with her cat. She's also smiling and laughing more.
---
It took awhile for that smile and happiness to return.
For eight years, Brown worked as drama teacher at Sherwood Middle School. Then, she wrote a compelling play, 'Higher Ground,' which dealt with bullying in school and made references to gays, overweight girls, incest, domestic abuse and the Holocaust. After a couple of students' parents objected to some of the play's language and situations, Sherwood school administrators promptly ordered a halt to the production. Her Sherwood students later went outside their campus and put on the play at a Portland theater. A few months later, a Connecticut middle school picked up the play and put it on to rave reviews.
But, Brown had been hurt by how things went down in Sherwood. She resigned her teaching job out of protest.
'It took me a long time to rebound from it,' says Brown, who not-so-fondly recalls the events of early 2008 when her story was big news in the Portland-area media. 'When you're questioned and basically burned at the cross for doing something, I wondered if what I did was OK. It took me a long time to work through that. Then, when a teacher from Connecticut came calling, it was some sort of redemption, a validation for me.'
Brown has produced a documentary film based on the background of the 'Higher Ground' story. She made it with the help of others, mainly former student Anne Dillon, a recent St. Mary's Academy graduate. It'll be shown (along with a discussion of the issue) 11:30 a.m. to 3:30 p.m. Sunday, Aug. 15, at Mission Theater, 1624 N.W. Glisan St. The events are meant for former cast and production members, but the public is also invited.
Brown has also talked about becoming a published playwright and making a movie based on 'Higher Ground,' along with the desire to start a nonprofit company and get back to working on plays with Portland-area middle school students.
So, two years after her world had been rocked, the 37-year-old Lake Oswego High and University of Oregon grad finally has something to be happy about.
'I have been working some odd jobs, and not been gung-ho about returning to the world of public education,' she says. 'It definitely burned me, that experience.'
Many of the former administrators in Sherwood who objected to the play have since left the district as well, and Sherwood does not have a middle school drama department.
These things have happened elsewhere. In 2005, Southridge High School administrators would not allow its drama department to stage 'The Laramie Project,' about the hate crime death of the gay young man Matthew Shepard in Wyoming, and teacher Wade Willis resigned.
In both situations, it was a matter of creative people butting heads with administrators over what was deemed appropriate content for teenage students.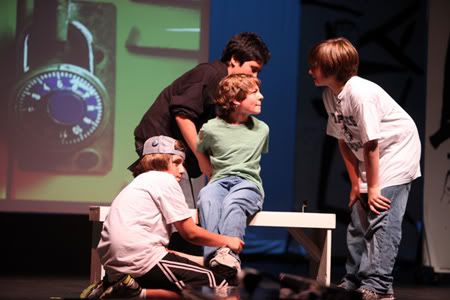 COURTESY OF KAREN MCCORMICK • Westport, Conn., middle school students (left to right) Dylan Luce, Joe Badion, Will Haskel and Nathan Luce perform a scene from 'Higher Ground.'
The interesting thing is that Karen McCormick, drama teacher at Bedford Middle School in Westport, Conn., saw the news coverage and actual script of 'Higher Ground' on the Internet, and produced the play with her students, determining the content to be educational in nature and not offensive in any way.
'I loved it, and I brought it to eighth-graders and they loved it,' McCormick says. 'I showed it to my principal and all sorts of people and they all loved it; (the principal) wanted a part in it. So, it was the completely opposite reaction.'
Bedford kids put on the play in May and June.
'We did it for evening performances and the school loved it so much, they had us do it again during school,' McCormick says. 'We had 800 kids in our auditorium for two hours, and you could have heard a pin drop. The response was amazing, and I think we're going to be 'forced' to do it again, the PTA wants us to put it out for kids coming into school.'
It still baffles Brown why some people objected to the play in Sherwood. Brown calls them 'fleeting' references in the play: about students feeling teachers would 'gas us' if they didn't run a mile in class; about 'an inbred hick'; about a student having an abusive father; about a student mistakenly thought to be gay; and, about a girl called 'a cow.'
McCormick saw the value in 'Higher Ground.'
'It's so timely,' she says. 'One of the main initiatives for the PTA is bullying and how to cope with it. … The message (in the play) is wonderful and it's very well-written.'
The documentary film will be about two hours long, with news footage, extensive interviews and narration. Brown elicited the help of friend and video professional Brent Soo Hoo for some production, and worked to complete the film with Dillon, who had the original idea to make it. Dillon's two younger siblings were in the 'Higher Ground' production put on at the Bruning Center in Portland in spring 2008, after the Sherwood students voted to put on the play outside of their district.
'It's been a technological challenge,' says Dillon, who took film classes at St. Mary's and plans to attend Dominican University in San Rafael, Calif. It is very much a homemade-movie sort of venture.
Soo Hoo knows Brown really well.
'I think she's finally over it,' he says. 'When I interviewed her (for the film), she was pretty tense, very anxious about it. She hugged a pillow for the three-hour interview. But she feels better about the Westport thing.
'She was (in Sherwood) for eight years. She loved working with those kids. She got caught up in the wave and it crushed her.'
Adds Brown: 'The great part was the Sherwood kids did a wonderful job, it empowered them, and the message got out.'