FONT
SHARE THIS
MORE STORIES
---
Rockette science
Details

Jason Vondersmith
Rock Creek dancer gets her kicks - a lot of them - in Radio City tradition
The Radio City Rockettes have been doing their leg kicks to admiring crowds for nearly 80 years. But, growing up in Washington County's Rock Creek area, KT Wilson had never heard of the famous dancers.
---
'I had a dance teacher who had been a Rockette 30 years before, and she said, 'You'd be great for this,' ' Wilson says. 'She kind of educated me about the Rockettes. Then, I went to New York in high school and saw them for the first time.'
At 18, fresh out of Valley Catholic High School, Wilson tried out for the Rockettes and made the troupe. This holiday season, Wilson performs with the Rockettes for the fourth time. She hopes to be part of the group that dances in Portland in the Radio City Christmas Spectacular, Dec. 23 to 26 at the Rose Garden arena.
'I was lucky to get (selected) my first time,' says Wilson, 21, who lives in Manhattan.
The Rockettes are celebrities themselves in a big city where Broadway stars abound, if for nothing else than their ability to kick like they do.
Not everybody can kick her leg up to their eye level, much less 300 times in one show or 1,200 times during the course of one, four-show day. It takes a lot of flexibility and strength and endurance - especially considering it's done on a steel stage - and the dancers all have to be in synch and symmetrical.
It's a different kind of dancing that might not appeal to the individual dancer. It's a team effort.
'That's what people remember, the kicks,' Wilson says. 'That's how we end every number. It's classic. But, our numbers also incorporate choreography and tap numbers. They'll stick with tradition and bring in new ideas.'
Wilson remembers seeing the Rockettes do their kicks while at the New York show in high school. Her thought: I can do that.
'You see them on stage, you think we're kicking really high, almost kicking our face,' she says. 'All those kicks are just eye level, and they all have to be the same - top of the toe at eye level. But eye level is pretty high for an average person.'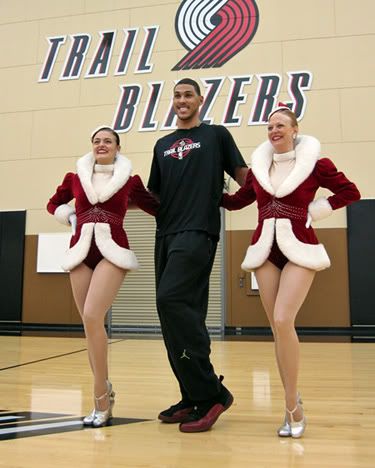 COURTESY OF OF ERIN SCHUMACHER • Rock Creek's Rockette KT Wilson (left) and Kate Vallee exchange on-the-job training with Trail Blazer Jeff Pendergraph, as he learned in September to high-kick like the Radio City Rockettes.
Talent and athleticism
Wilson grew up in the Portland area, and attended Westside Dance Academy in Tigard. She also trained in ballet, so she had the flexibility to perform the kicks right away.
'I do a lot of stretching,' she says. 'I'm not too naturally flexible - Dad's one who can't straighten his legs, 'Oh!' But, if you dance since you're 8 years old, it's easier.'
The Rockettes train year-round, either with weights, pilates, yoga or other exercising.
It takes talent - and some athleticism - to be a Rockette.
'During the offseason we do a lot of cross-training, not just dance classes,' says Kate Vallee, 31, from Rochester, N.Y. 'We have athletic trainers that travel with us. They help us out with anything that's weak or if we're injured.
'Our athletic trainers will tell you that we are athletes, especially because we do up to four shows a day. That's at least eight hours of dancing. You have to be ready for anything.'
A show usually lasts an hour and a half, with eight different costume changes.
'We're pretty much constantly on stage,' Wilson says.
Most of the women are in their 20s, with some in their 30s.
'When I joined, I thought everybody would be 18 to 24,' Wilson says. 'Actually, the average age is late 20s, early 30s. It takes a very specific type of dancer, you have to be seasoned. It's so specific. If one finger's out of place, you'll get a note about it.
'You gotta be able to take directions well. You're not dancing as a soloist. You're like everyone else.'
Sierra Ring, 28, from Tucson, has performed with Wilson for several years. She agrees: Individualism is not part of the routine.
'It's definitely a different way of dancing,' she says. 'It takes getting used to. You're dancing so close in proximity to your fellow Rockette. If I'm not next to one of my fellow Rockettes, I feel nervous, I'm so used to having them next to me.
'That's what makes it so different, really unique. It's a precision dance troupe.'
The women have to be between 5-6 and 5-10 1/2, with the taller ones on the inside of the line, and the shorter ones on the outside. Directors try to make the lineups even.
A family tradition
The Rockettes perform for three months during the Christmas season at Radio City Music Hall, but other groups go on national tours. The 'arena' tour plays before huge audiences - Radio City Music Hall seats only 6,000. The crowd at the Rose Garden might double that.
Wilson says that Linda Haberman, the Rockettes' new director, wants to expand the show to include a spring tour. Back in the day, the Rockettes performed between movie showings at Radio City Music Hall and also had other shows throughout the year.
There are two casts who perform in New York, another on the arena tour and three others that do some productions at small venues throughout the season.
'There are somewhere between 150 and 200 Rockettes,' says Jennifer Fiandt, 27, a nine-year Rockettes veteran from Rochester Hills, Mich. 'You only see 18 in the arena show, and 36 in New York.'
There are stand-ins ready to take the stage, should an illness or injury occur.
Wilson says she gets a kick out of talking with young dancers, telling them about the Rockettes.
'They're so amazed - 'I wanna be you!' ' she says. 'It makes you feel great.'
It is something special, Ring adds. 'It's really an honor to be part of a legacy and history in New York. Whether you're a native New Yorker or not you feel like you're part of this big iconic New York symbol.
'It feels wonderful to be recognized as a performer. You can mention to anyone, 'I'm a Rockette,' and everybody's heard a story or has a grandparent or an aunt who has seen the show. My parents are from Brooklyn, and I have generations who've grown up seeing the show.'
Adds Vallee: 'When you go outside of New York City, anytime they see you're a Rockette, people say, 'Oh, my gosh, that's amazing.' You're part of a family tradition. They want to look at your legs, ask you about the kicks.'
Ring says that women who are Rockettes bond really well. Vallee agrees.
'We have a real sisterhood, we're working so hard together on a regular basis,' Vallee says. 'We go through the rehearsal process, we need each other to support everything we go through.
'We do four shows a day sometimes. … (Arguments) almost never happen. We're not very competitive within ourselves, there are no stars on our line. There's never a time when somebody else is on stage and we're not. It's precision choreography, so you take (individual) element out of it, you don't really have any divas.'
None of the Rockettes know where they'll be appearing during the holiday season. Wilson has performed in New York and also been on tour. She would love to appear in her hometown.
'It's up to directors, and who knows?' she says.
The Radio City Christmas Spectacular will be at the Rose Garden: 7 p.m. Thursday, Dec. 23; 1 p.m. Friday, Dec. 24; 5 p.m. Saturday, Dec. 25; 11 a.m., 2 p.m. and 5 p.m. Sunday, Dec. 26. Tickets are $25, $45.50 and $65.50 and available by calling 1-877-789-7673 and buying online at comcasttix.com.