FONT
SHARE THIS
MORE STORIES
---
Wasabi paddlers power up
Details

Jason Vondersmith
Fast-moving dragon boaters leave cancer, competition in their wake
It takes hardy souls to brave the cold and rain associated with Oregon winters, while sitting about eight inches from the chilly waters of the Willamette River with a paddle and a series of sprints ahead of them with a coach yelling at them to 'Power up!'
---
For members of Portland's well-known Wasabi Paddling Club, they would not be anywhere else than on the river with their friends and teammates when it's time to practice or compete, whatever the elements.
'It's just being outside, being on the water, getting exercise,' says Elva Kopacz, a member of Wasabi's Team SOAR, made up of cancer survivors. 'The camaraderie is wonderful. It's good for anybody, cancer or not, it's good for your head. It's just a very gratifying thing to do. It's fun, and the racing is very addictive.'
Wasabi, about 300 members strong and headquartered at Portland Boathouse on Southeast Water Avenue, reigns as one of the largest dragon boating clubs in the country, if not the largest.
Formed in 1993, Wasabi sends teams to dragon boat races throughout the United States and Canada and to Europe and Asia. It is recognized as a leader in the sport.
Dragon boating is quite a subculture, far from a weekend warrior thing, because folks from all walks of life train year-round on the Willamette, enjoying only a smattering of breaks throughout the year.
It takes dedication of time and effort and money to be members of the team. All the practice pays off with competition at races each month from March through October - in Tempe, Ariz., March 26 and 27; in Olympia, Wash., in April and Tacoma in May; the Alcan Dragon Boat Festival in Vancouver, British Columbia, in June; in Seattle in July; in Tampa, Fla., in August for nationals; in San Francisco and Portland in September; and in San Diego in October.
Each dragon boat season usually brings a big event overseas. In recent years, Wasabi members have competed in China, the Czech Republic, Hungary, Malaysia, Taiwan, Korea, Australia and Italy, among other exotic locations.
There are usually Wasabi crews at all the big events. There's an outrigger canoe crew going to Fiji in April.
'It's a long race season,' says Gavin McWilliams of Portland, a Wasabi paddler and coach. 'Last year was a heavier schedule.'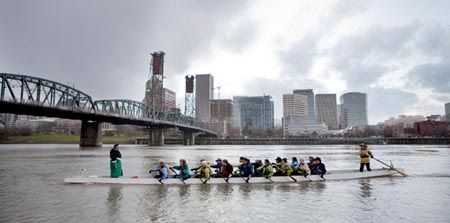 Tribune Photo: Christopher Onstott • Team SOAR takes off from a dock on the east side of the Willamette River and heads upstream on a training paddle. The team has about 35 members - all cancer survivors, who compete in cancer and women's divisions.
About 75 percent of Wasabi's members are women, even though organizers are always welcoming to men who want to participate. About 35 members make up Team SOAR, a part of the club that has earned Wasabi much acclaim.
• The women of Team SOAR (which stands for 'Survivors On A River') compete in cancer and women's divisions; it used to be where dragon boat events would hold breast cancer-only divisions. Wasabi, and the dragon boat community, opened up to other survivors as well.
For 13 years, Kopacz has battled leukemia. It's a chronic form of cancer and she takes an oral medication to control it. Having started dragon boating in Southern California, she naturally gravitated toward Wasabi when she moved to Washougal, Wash.
'I knew about this team, it's very well-known,' she says. 'I was happy to join.'
Jeanie Shields of Ridgefield, Wash., joined Wasabi when it opened up to all cancer survivors. She had ovarian cancer, now in remission after 16 months of chemotherapy. An avid golfer, Shields took up dragon boating a year ago.
'It was time to see what this is all about,' Shields says. 'We were told about what we could do, that nobody could go wrong. After the first competitive race, I found out it's about winning. It's fun to win, and we did well in survivor races last summer.'
Marilyn Christie of Beaverton has been in remission from breast cancer since 1991, and joined Wasabi in 2003 after her husband passed away - from cancer.
'I'm grateful for the camaraderie,' she says. 'Everybody's very upbeat.'
Adds Gretchen Brown of Sherwood, another survivor: 'Camaraderie was not what I joined for, but it has become a huge part of my life. I look forward to practice. It's a great group of women.'
• Corky Lai has been with Wasabi for about 10 years, as a paddler and now a coach. She leads Team SOAR, and she admires how the survivors don't feel sorry for themselves.
'Cancer doesn't define them, it's not who they are,' she says. 'They don't like people to focus on them solely as survivors. They are so much more. We have PhDs, MDs, doctors, lawyers, accountants, nurses, some stay-at-home, teachers. That they survived cancer is only one very small aspect of their lives.'
Lai's teams compete in women's divisions and hold their own. She's gearing up women to compete in a club crew championship in Hong Kong in 2012.
On her cap, she dons mementos from each year with Team SOAR, pins that read 'Faith' and 'Love' and 'Trust.' Lai enjoys leading these women.
Tribune Photo: Christopher Onstott • Members of Team SOAR adorn team mementos, including some that read 'Faith' and 'Love' and 'Trust.'
'They're a great group to lead, and it doesn't have anything to do with them having survived,' Lai says. 'They happen to have cancer and survival in common. The greater things they have in common are camaraderie, a sense of family and winning and competitions. That's what it's about on the river.
'All of them are very competitive. All of them are athletes in their minds, athletes in their bodies. They strive to be fit all the time, strive to do their best on the water. When they get to the start line they're focused on finishing first.'
Team SOAR and Power Surge will represent Wasabi in the season-opening event at Tempe. Lai laughs about the long practices during the winter, and then the talk of warmer climate and actual competition in Tempe. The itch to compete is abundant.
'The last time out I was giving them instructions on what the start will fee like, the commotion,' she says, of dragon boat races. 'I had to stop in the middle and say, 'OK, I'm hyperventilating, I'm ready to go.' And they're ready to go. We're ready.'
• Obviously, not all of Wasabi's women have had to deal with cancer. The club has several teams of women. SaTina Pasillas of Portland, a longtime paddler and now coach and helmsman (the person who steers), leads Power Surge, a group of 90 women all 40 years old or older.
'For many of them, this is their first team sport,' Pasillas says.
Portlander Lisa Hillhouse, 30, joined Wasabi about four years ago. She competes for Team Huge and on the outrigger canoe team; unlike dragon boating, which features 20 paddlers and a caller and steerperson, outrigger canoes are powered by one to six people.
Hillhouse, like many Wasabi members, spends five nights a week on the water, or training indoors. Freezing temperatures and high winds, or too much debris in the Willamette, keeps paddlers off the river. 'Then we're 'tough' (training) in the boathouse,' she quips.
'It keeps you in shape, and you have a club full of friends and people who will have your back,' she adds. 'You get to see different cultures (on trips), meet people on other teams. How could you not like it? Once you get into the culture, you can't say no anymore.'
Indeed, one of the best benefits of dragon boating is the physical fitness aspect. The stroke uses mostly arms, back and core, and some legs in the push.
'I've never had much strength in my upper body, now I do,' Hillhouse says. 'I played softball and soccer as a kid, and I'd been running. But I never had upper body strength. One day after paddling, I looked in the mirror and saw definition - 'Oh, I like that.' '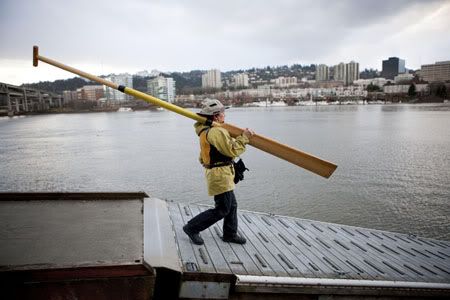 Tribune Photo: Christopher Onstott • Janet Beaufpria, a Wasabi Paddling Club steerperson, prepares to take her position in the rear of the dragon boat, which is usually 47 feet long with paddlers sitting only about eight inches above water.
• Wasabi features some men, but the club has to compile men from various co-ed teams for a full entry into an event. The club has often sought more men.
McWilliams lived in Hong Kong for 10 years, where the sport is popular among men. With Wasabi, it's the opposite. McWilliams moved to Portland and joined Wasabi, which takes its dragon boating seriously.
'It's an odd little subculture,' he says, of hardcore dragon boating. 'But it's about positive energy, personal fitness and betterment.'
Most residents might associate dragon boating with the Rose Festival races, he says.
'The Rose Festival would be something to compare to rec league softball,' McWilliams says. '(With Wasabi), if you're not on the water, you're in the gym thinking, 'I don't want to lose my edge, my fitness, I gotta keep that 10 pounds off and my back strong.''
McWilliams overcame his own back problems through training and competing in dragon boating. 'Enormous health benefits,' he says.
Many members of Wasabi make U.S. national teams. About a dozen Wasabi members - including Pasillas as a helmsman and McWilliams as a paddler - participated on the U.S. teams in Hungary last year. McWilliams and Hillhouse and others hope to make U.S. Dragon Boat Federation teams during time trials in outrigger canoes on the Willamette in April.
• Wasabi is the largest and most visible dragon boat club in Portland. But there are others, with Bridge City Paddling Club, DragonSports USA and Kai Ikaika Paddling Club among them. They, along with the rowing and canoe/kayaking factions, won a victory recently when the Oregon State Marine Board declared Holgate Channel behind Ross Island as a no-wake zone - their training area. Paddlers, rowers and canoeists/kayakers have long lobbied for the designation, because of the effect that power boats have on their endeavors. There will also be more enforcement in the Ross Island lagoon.
'You get somebody coming through, creating speeds fast enough to pull a wakeboarder, you get swamped boats,' Pasillas says. 'Then, you're either bailing or getting out and bailing.'
She adds: 'We still have to get to the (Ross Island) safety zone, which is a 12- to 18-minute solid paddle.'
Wasabi Paddling Club offers a beginner's level team, Wasabi 101. For more information, go to wasabiusa.org.