FONT
SHARE THIS
MORE STORIES
---
Bands energy has em dancin in the streets
All The Apparatus takes busking to a new level by rattling up a few snappy tunes
Last spring, David Eaton was walking through downtown Portland when he heard 'an enchanting musical ruckus' that 'invited me to join an entranced crowd of tourists, mall rats and street people, equally feasting on the interactive musical banquet of All The Apparatus.'
---
A Los Angeles music producer, Eaton has worked with such acts as The Polyphonic Spree and Mojo Nixon. Now he's gearing up to produce the second album by All The Apparatus, 'the most intriguing band I have met since producing The Polyphonic Spree.'
Eaton says ATA's wacky, manic members create 'a world of perplexing caricatures wielding unlikely instruments - ukuleles, accordions and tuned PVC pipes struck by flip-flops - to create groovy, memorable songs of villainy, tragedy and sacrificed innocence.'
If you've been near Pioneer Courthouse Square on a Saturday night, you may have had a similar experience with All The Apparatus, an 11-member band whose members moved to Portland from Hawaii in December 2009.
To hear them is to see the football team uniting with the glee club in song, to witness the joy of souls about to be released from Purgatory into Heaven, to experience theater as life and life as theater.
While a lot of musicians busk now and then, few have made playing in the street their modus vivendi to the extent All The Apparatus has. After watching them, you wonder why more bands don't do this - there's no burly bouncers kicking out unruly patrons, no club owners arguing with the group over its fee, no division between folks who can and cannot drink booze, no restrictions other than the laws governing what happens on our streets.
'I don't think we would do as well if we focused on clubs,' says Erika Marler, the band's French horn, pipe drum and kalimba player. 'One of the best things is we have teenagers that grab grandmothers that grab younger kids, and they're all dancing around to the music. You just don't see that in clubs.'
Indeed, it's the band's relentless focus on playing its 'avant-garde dirty gypsy klezmer jazz indie anti-folk rock' outside that particularly attracts Eaton.
'Their stage is Planet Earth, and their audience is mankind,' he says.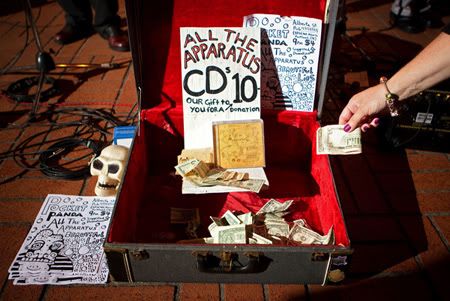 TRIBUNE PHOTO: CHRISTOPHER ONSTOTT • All The Apparatus depends on donations from passersby to keep the music going.
The band includes members who are still couch surfing and others who are married with children, some who are veteran musicians and others who barely could play a couple of years ago. The band doesn't even have a rehearsal space - it tries out new songs on the street.
Mike Hansen, 29, the group's bassist, notes the band was formed in 2008 in Laie, Oahu, where some of the group's members worked for a TV station. Originally called Haberdashery, they changed their name - 'it's like all the apparatus of music' - after learning a couple bands on the mainland had the same moniker.
'The first time we played we just made noise for four hours, and I'm sure it was horrendous, but it was fun,' Hansen says, crediting the late James Don Warren III, the band's original guitarist, for inspiring the group of artsy Oahu residents to start jamming.
Although the band played indoors here and there, a street gig in Waikiki was a turning point, Hansen says.
'The sidewalk was always more fun because of the people who were out,' Hansen says. 'A lot of our crowds were poorer people, so the energy was just amazing.'
It's an energy you can see here in Portland, which the band members chose to live in because of the town's vibrant music scene. When was the last time you saw a homeless person drop a dollar bill in a band's tip box? Yet it's an experience All The Apparatus has had more than once.
'What I've heard time and time again is, 'Thank you so much, we hardly ever get this,' ' Hansen says. 'The gratitude from (street people) is pretty humbling and pretty flattering.'
It's not just the homeless who dig the sounds of All the Apparatus - white-collar professionals, trust-fund hipsters, crewcut police officers and black-clad anarchists have all been spotted tapping their feet, nodding their heads and generally cracking smiles when listening to songs like 'Let's Go Ride Bikes' and 'Lobsterface McGee.'
Hansen notes it can get a little wild sometimes.
'We've had people strip completely naked at our shows,' he says. 'One guy broke a bottle over his head and got glass everywhere.'
Most of the time, however, 'we get a really good mix of both the higher class or the homeless people, and they don't seem to notice.'
And the ever-changing audiences are usually friendly.
'We don't come across too many 'Boo! You suck! Get off the street!' ' Marler says with a laugh.
Not to mention, the band has managed to move some serious amounts of merchandise through its performances. It's already sold a few thousand CDs to passersby, Hansen says.
The fans speak
There is no typical All The Apparatus fan, but some are more faithful than others.
Leticia Castaneda of Hillsboro, 20, has been coming to see the group for months and says she likes the band's 'eclectic music' but, more importantly, simply likes the vibe.
'They definitely have all the energy of a band plus they're all just really nice people when you talk to them,' she says.
Duncan Ferguson, 25, of Portland, fell in love with the band when he was coming home from work on a bus one day and got off in Pioneer Courthouse Square.
'I heard them on a corner,' he says. 'Two and half hours later I was still missing my buses.'