FONT
SHARE THIS
MORE STORIES
---
Unwinding musical history
Filmmaker shines a documentary spotlight on the Carter Family
Before there was country music, there was the Carter Family. In 1927, A.P. Carter, his wife Sara, and her cousin Maybelle came down out of the Virginia hills for a recording session in Bristol, a town on the Virginia-Tennessee border, and founded a musical dynasty that continues to this day.
---
Fascinated with the Carter Family's far-reaching influence, local filmmaker Beth Harrington set out 10 years ago to make a documentary about the family. Her film is 'The Winding Stream,' a title that describes the course of the Carter Family's legacy through American popular music, but could just as well describe the process of making the film.
Even for an experienced filmmaker, and even when things mostly go right, the process of putting together an independent documentary is full of twists and turns - and the journey isn't over yet.
On a morning in early March 2011, Harrington prepared to leave her home in Vancouver, Wash., to head to Bristol for the final big shoot of her documentary. Her trip coincides with a festival that is celebrating a new CD release of the recordings that came to be called the Bristol Sessions.
'The Bristol Sessions became the first treasure trove of commercial music in country music,' Harrington says.
Actually, it wasn't even called country music, yet. The records were sold as old time, old timey or hillbilly music, Harrington says.
The original Carter Family started recording in 1927, and stayed together as a group until the 1940s. Starting in 1938, the family was a fixture on radio station XERA, which broadcast at a massive wattage from the Texas border, outside the legal limits of United States broadcasting laws.
'They are blasting a signal that at night goes all over America, even though it's not supposed to, and all over the world,' Harrington says.
These broadcasts made the Carters internationally known, creating a bridge between the obscure folk music of Appalachia and the new commercial world of broadcast and recorded music. As the family grew, a second generation of Carters began performing with the group.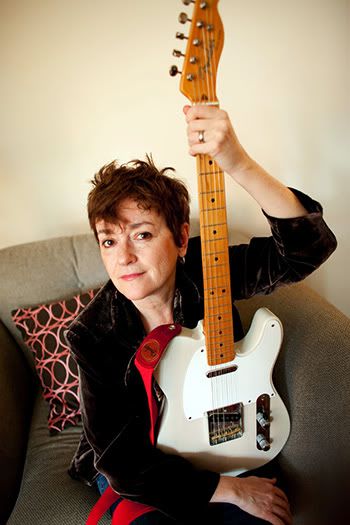 Tribune Photo: Christopher Onstott • Music and film are interconnected passions for local filmmaker Beth Harrington, whose documentary-in-progress about the Carter Family, 'The Winding Stream,' traces the roots of country music.
Carter-Cash legacy
Among their many fans was Johnny Cash. As a young man in Arkansas, he picked cotton by day and listened to the Carters on the radio at night, as he told Harrington when she interviewed him for 'The Winding Stream.' It was Cash's last interview before he died in 2003.
When Harrington and her crew went to Nashville to interview Cash, he was in the hospital. The day Harrington was scheduled to fly home, Johnny Cash's son called her. Cash was out of the hospital and wanted to talk.
Harrington says Cash went out of his way because he wanted to talk about the Carters, whose music he had championed for many years, and about his wife, June, who was Maybelle's daughter, and who had passed away earlier that year.
'It was partly because he wanted to talk about June and he wanted to talk about the Carters, it wasn't so much about him,' Harrington says. 'He was really tremendous to us and I was thrilled.'
A previous connection gave Harrington a remarkable access to the Carter-Cash family. Her earlier film, 'Welcome to the Club: The Women of Rockabilly,' was narrated by Johnny's daughter Roseanne. 'Welcome to the Club' played at film festivals and on public television, and was nominated for a Grammy in 2003.
Roseanne Cash was impressed with the film and became a supporter of Harrington's work. She also received help from other members of the family, including John Carter Cash and Lara Cash, John Carter's wife, who is originally from Corvallis.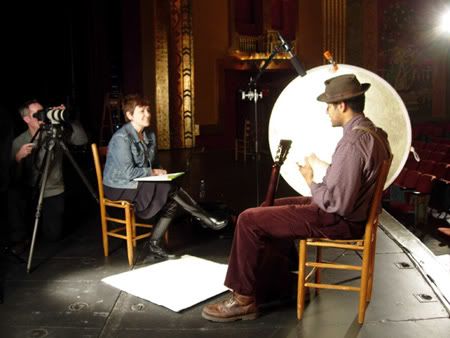 Courtesy of Beth Harrington • 'Winding Stream' director of photography Bradley Sellers (left) films as Beth Harrington interviews Dom Flemons of the Carolina Chocolate Drops. Flemons' band played recently in Bristol, Tenn., during a festival honoring the Carter Family.
Kickstart fundraising
Music documentaries are a natural for Harrington, who has a history both in music and in independent film. In the early 1980s, she was a singer with Jonathan Richman and the Modern Lovers. Originally from Boston, she began her film career at Boston's public television station, WGBH.
'I cut my eyeteeth with the top public television station,' she says, working on shows including Nova and Frontline. She met her future husband, Andy Lockhardt, a volcanologist, while working on a film about volcanoes. Eventually she made the decision to follow him to the Pacific Northwest, where she has lived for 15 years.
She worked as a freelancer for Oregon Public Broadcasting, first on national shows and then producing episodes of 'Oregon Experience.'
She also contributed her experience and enthusiasm to the local independent film scene, says Tara Johnson-Medinger, who is the executive director of the Portland Oregon Women's Film Festival and the head of Sour Apple Productions, a local production company.
Harrington contributes a helpful and collaborative tone in a field that can be very competitive, says Johnson-Medinger.
'She's always very open,' she adds. 'Very direct, but incredibly supportive.'
For a project like this, the funding comes in bits and pieces.
'The days of getting a lot of money up front to make a film are definitely gone,' Harrington says.
'The Winding Stream' has received grants from the Virginia Foundation for the Humanities and from the Faerie Godmother Fund, a Portland nonprofit that helps female filmmakers.
Earlier this year, Harrington made her first foray onto Kickstarter, a website that turns the donation process into a race against time. It turned out to be very successful, raising the film's profile as well as paying for the trip to Bristol.
Harrington is waiting to hear about a grant from the Independent Television Service, which funded her last two films, and from the National Endowment for the Arts. She's also seeking corporate underwriting.
Although the film is nearly finished, a new wave of money is crucial. That's mostly because of the copyrights involved: archival rights for photos, music and television footage.
'We've done a ton with very little money… but now it's at the point where what we need to finish can't happen without money,' Harrington says.
If everything goes well, it will be done in a year. From the beginning, there was always the possibility that it would never get done at all.
'People love the idea, but ….' her voice trails off.
Support has to come from people who care about the subject matter, but it's not necessarily attractive to profit-minded investors. As Harrington says, 'A blockbuster country music documentary isn't something I've heard of yet.'