FONT
SHARE THIS
MORE STORIES
---
Police suspend Rocky Butte search for missing girl
Details

Jennifer Anderson
UPDATE • Family and friends hold vigil Saturday for Yashanee Vaughn
After three unsuccessful days, searchers will not return to Rocky Butte on Monday to continue looking for evidence in the suspected murder of 14-year-old Yashanee Vaughn.
---
Police suspect Vaughn was killed by her 16-year-old boyfriend, Parrish Bennette. He has been arrested and charged with manslaughter in the case.
Vaughn's body has not yet been found, however, despite police-coordinated searches on Rocky Butte and searches by friends and family members in other parts of town.
Flags at several buildings around the city were lowered to half-staff to honor Vaughn. City Commissioner Dan Saltzman said the city had 'lost a bright young person.'
'While the investigation continues, it is important that we take a moment to honor her life,' Saltzman said.
Dozens of friends and family gathered Saturday evening at Powell Park on Southeast 26th Avenue to remember Vaughn, who police suspect was murdered a few days after she went missing in mid-March.
The candlelight vigil came after volunteers spent most of Friday and Saturday climbing through the brush near Rocky Butte looking for clues to Yashanee's disappearance. About 80 volunteer search-and-rescue members from the Multnomah County Sheriff's Office scoured the steep terrain around the park looking for evidence related to Vaughn's murder.
The search continued Sunday. It was led by the Multnomah County Sheriff's Office Search and Rescue Unit, with the assistance of dozens of search and rescue volunteers from Oregon and Southwest Washington. Approximately 75 volunteers assisted, along with members of the sheriff's office, Mountain Wave Communication, Pacific Northwest Search and Rescue, Clark County Citizen Search and Rescue, Portland Mountain Rescue, Northern Oregon Search and Rescue, and Silver Star.
A candlelight vigil brought together friends and family Saturday evening at Powell Park for 14-year-old Yashawnee Vaughn, who was murdered in mid-March. CHRISTOPHER ONSTOTT/PORTLAND TRIBUNE
'It's an overwhelming task because the area is very large,' police public information officer Lt. Kelli Sheffer told Fox 12. 'The idea is that we (bring) enough resources to cover the area adequately. We want to make sure we're being very thorough in the search and very methodical in the search.'
In addition to Rocky Butte, crews also searched around an old golf course less than two blocks from where Bennette once lived on Sunday.
New information tips police
Portland police arrested Bennette Thursday, March 31, and charged him with murder in connection with Vaughn's disappearance and death. During an arraignment Friday, April 1, a Multnomah County circuit judge reduced the charge to first-degree manslaughter. Bennett pleaded not guilty to the charge. His bail was set at $500,000 and another hearing was scheduled for Friday, April 8.
A Multnomah County grand jury will take up the case this week.
Vaughn was reported missing March 21, two or three days after she disappeared. (Her first name is legally spelled 'Yashanee,' but she prefers the spelling 'Yashawnee,' according to family friends.)
Police announced Bennett's arrest during a Thursday afternoon press conference. Bennett has been charged with one count of murder and lodged in the Multnomah County Juvenile Detention Center. Police say preliminary evidence suggests Vaughn was killed March 19, a day after disappeared after getting on a TriMet bus near Northeast 82nd Avenue.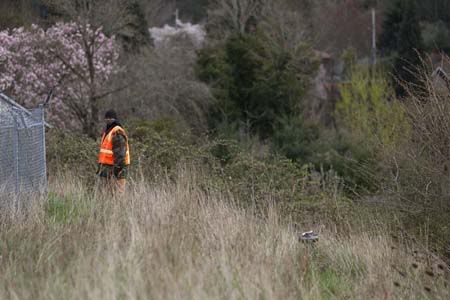 Volunteers searched near Grant High School Saturday hoping to find evidence that would lead them to Yashawnee Vaughn's body. CHRISTOPHER ONSTOTT/PORTLAND TRIBUNE
Details about the case - including where the alleged crime happened, the relationship between the two, the motive and the location - are still unknown. Police have not released details of the case.
Yashanee's mother, Shaquita Louis, called police at 10:17 p.m. March 21 to report her daughter missing, saying she hadn't had contact with her daughter since March 18. An officer entered the report into national databases and alerted other officers he had taken a missing persons report.
Then at 8:28 a.m. March 23, Louis called again to report her daughter was still missing. Two detectives began working the case and collecting more information, and Louis also alerted gang enforcement team officers to the situation.
'Detectives had no indication to believe that Yashanee had been abducted or foul play was involved until they received information on Sunday evening, March 27, 2011,' according to a statement police released Thursday. 'Subsequent search warrants and additional information has brought new information to light. Detectives have informed the family about these new developments in the investigation.
'Based on this information, investigators worked throughout the night to prepare search warrants to recover potential evidence to confirm their information.'
Pursuing all leads
Yashanee was a student at Helensview School on Northeast Sumner Street. School officials opened their building until 10 p.m. Thursday to give students a place to 'gather and grieve' for their friend.
Police Chief Michael Reese said Thursday that he shares the community's concern with the disappearance and now murder investigation of Yashanee.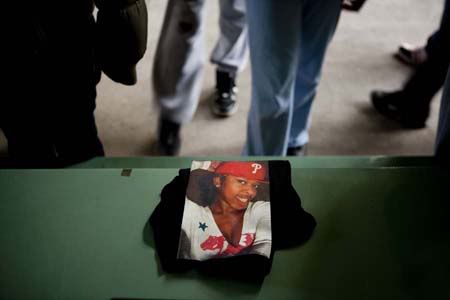 A shirt with a picture of Yashawnee Vaughn sits on a table Saturday as volunteers sign up to canvas areas hoping to find evidence that would lead them to her body. CHRISTOPHER ONSTOTT/PORTLAND TRIBUNE
On the morning of March 29, one sergeant and nine detectives were assigned to the case, serving search warrants, collecting evidence, processing two possible crime scenes and re-interviewing family members and possible witnesses. They also submitted evidence to the crime laboratory.
'Our detectives are actively involved in investigating this case and the Police Bureau will release additional details as soon as possible when it doesn't jeopardize the investigation,' Reese said. 'As police chief, I've been briefed throughout the investigation and detectives have worked diligently over the course of the last week to pursue all leads in this case.'
Anyone with information in the case should call Det. Mark Slater, 503-823-9319, or Det. Erik Kammerer, 503-823-0762.
Fox 12 contributed to this news story.