FONT
SHARE THIS
MORE STORIES
---
40 years and going strong
Details

JASON VONDERSMITH
Don't touch that dial: Bob Ancheta turns his radio mic into a global business empire
It was the 1960s, and the voice of 'The Big BA' went booming - well, crackling - on the airwaves in the blocks around Northeast 72nd and Prescott. A teenager then, Bob Ancheta broadcast from the attic of his parents' house, fit with a turntable, an AM transmitter made in school that he still has today, an antennae on the roof and a nickname from a friend that he still uses. He had his own phone, because his parents got tired of answering calls in the middle of the night.
---
'I'd stay up all night broadcasting,' he says.
Ancheta remembers staring in the window at the 'KISN Good Guys' at the old AM station on West Burnside. All he wanted to be was a 'Good Guy,' a dream that came halfway true later when he sat in one weekend shift under another name. As a senior at Madison High School in 1970, Ancheta got his first real gig, at KVAN 1480 AM, and then went on to become a staple in Portland radio with his shows on KGON 92.3 FM and KINK 101.9 FM. Now enjoying his 40th year in the radio biz, the beat goes on.
'I remember when I hit the 20-year mark, I thought I'd retire,' says Ancheta, 57.
Ancheta has his stories from 40 years on the radio, and from a memorable five-year stint in the 1970s as stage manager at the old Paramount Theater, and now holds dear scores of photos with the Mick Jaggers, Eddie Van Halens, Robert Plants, B.B. Kings and Bonnie Raitts of the world.
Ancheta can look back at his 40 years fondly, because he has made it out of radio alive. When cost-cutting moves in the 1990s forced him out of KGON and then 'Earth 105,' both owned by Entercom, Ancheta took his severance package and invested in his own company: Internetjock.com.
Originally producing voice tracks for radio stations - during the evolution of automation in the '90s - Ancheta's company moved into voice-over work for radio, television, narration, on-hold messages and the like.
The first year (1999), he says, the company made $17,000. This year, it'll make close to $1 million. Ancheta has 150 employees around the globe, and two customer service agents who help him manage things.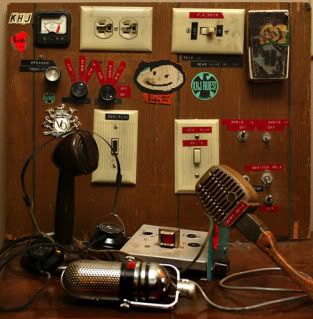 TRIBUNE PHOTO: L.E. BASKOW • As a kid, Bob Ancheta built a pirate radio station in the attic of his parents' house and broadcast on the AM dial to a five-block area of Portland.
From a career that started in an attic, Ancheta doesn't need to leave the confines of his own basement in Beaverton.
'It has grown by leaps and bounds,' says Ancheta, who's also engaged to be married and owns a cabin at Lake Merwin, Wash. 'I've been talking with my fiance (Lowanda Warner) about our retirement. I'll sit back and let somebody else run the company, or sell it. I made more money than I ever did in radio.'
'Brilliant move,' says Iris Harrison, his former cohort at KGON. 'He's been a smart businessman.'
But, he still joyfully does radio, 'The Sunday Night Blues Room' for three hours on KINK. Nothing beats the thrill of making his own show, although Ancheta admits that he can produce his three hours from his basement, too.
Skydivin' Skynyrd
Harken back to March 1, 1970, when Ancheta started in radio at KVAN. He made $1.60 an hour, at the same Vancouver, Wash., station where Willie Nelson once worked. He remembers fielding calls from Willie's mother.
Ancheta worked at KQIV in Lake Oswego - 'broadcasting from the Elks Lodge,' he says - and joined the neophyte KGON in 1977. In all, Ancheta would spend 18 years at the venerable rock station along with the likes of Marty Party, Gloria Johnson and Harrison. It was when the Rolling Stones, Led Zeppelin, Van Halen, KISS, AC/DC, Def Leppard, Guns 'n Roses and other greats were young and rockin'.
'They were awfully fun years, probably the glory days of FM rock 'n' roll radio,' says Harrison, who's still with the station.
Harrison says Ancheta made his way by being himself. 'BA is somewhere between a goofball and the brother who's playing tricks on you,' she says.
She should know; when her tonsils were removed in 1979, Ancheta held an on-air contest for who could make the best written argument for wanting to own them - a bit that later earned a spot in Esquire magazine, a photo of Iris' tonsils in a jar on the cover.
Ancheta liked all the sounds, but he really got into blues, in part because of his affiliation with the Waterfront Blues Festival. It's the roots of American music, he says, and influence for rock and roll songwriting.
The early days at the Paramount cannot be forgotten. Sex, drugs and rock 'n' roll? Oh yeah, it was there and he partook a bit. 'The Marshall Tucker Band,' Ancheta says, of a notable groupies band.
He still remembers the night in 1973 that the J. Geils Band rocked the house. 'I thought the balcony was going to come down,' he says.
In its infancy, KISS played the Paramount with AC/DC. Ancheta took Gene Simmons and the boys to the airport in the Paramount's blue Plymouth station wagon, 'and they spent the whole time arguing over the $500 they had made,' he says.
Eric Clapton, Peter Frampton, Jackson Browne, Rory Gallagher, The Eagles, Robin Trower, Earth Wind and Fire - the list goes on of Paramount performers. Ancheta says most preeminent bands, short of Aerosmith, Zeppelin and the Stones, played the venue.
TRIBUNE PHOTO: L.E. BASKOW • Now in his 40th year on the radio, Ancheta produces a three-hour blues show for KINK FM on Sunday nights.
Some musicians were high-maintenance, others not. He says Foghat demanded RC Cola and not Coke in its dressing room, whereas John Denver only wanted honey for his tea. Barry Manilow was just as polite.
Ancheta says he and ticket man Tom Lasley stood and watched The Captain and Tennille perform in front of about 300 people and 'next thing you knew, they had their own TV show!' he says, laughing.
David Lee Roth of Van Halen and Molly Hatchet members weren't real princes to be around. He took Lynyrd Skynyrd skydiving one year - 'It was a 'Freebird' thing,' he says - the next time in town the guys didn't even recognize him.
But, Getty Lee from Rush, after having him license a car in Oregon for the Canadian band, paid $300 worth of parking tickets that had been racked up across the country when the group returned to Portland.
Out of control
Ancheta also managed the band 'Sequel' for a while; it broke up just as the group got close to a record deal, he says. All the while, Ancheta cultivated an audience on KGON, especially with the blues, which he has continued at KINK the past 11 years. He likes the old stuff from the likes of B.B. King and Buddy Guy, but mixes in new stuff and the guitar licks of Jimmy Thackery, Tab Benoit and Tinsley Ellis.
'I won't stay in the old node for very long, because it sounds old,' he says.
But the hair-band days still are fresh in his memory. The first Van Halen album and Guns 'n Roses' 'Appetite for Destruction' were transcendent works - 'they changed the way we did business,' he says - and he counts Journey's 'Infinity,' Cheap Trick's 'Live at Budokan,' Jimi Hendrix's 'Are You Experienced?' the first Zeppelin, Thin Lizzy's 'Jailbreak,' and 'Montrose' with Sammy Hagar as favorites.
Ancheta, who owns about 10,000 CDs, laments the plight of radio, with the Internet and satellite radio cutting into business. Too many ads, too much automation, he says. Ancheta pines for the old days - watch a rerun of 'WKRP in Cincinnati,' he laughs, and you'll see it 'when it was fun and out of control.' But, 40 years and counting, 'The Big B.A.' still captures listeners.
The funny thing is, he had trouble at the beginning. His program director at KQIV put a blowup doll in the studio with him, so he could practice speaking to the audience in conversational tone.
'I love radio. I'm glad I get to do it three hours a week,' he says.