FONT
SHARE THIS
MORE STORIES
---
TIMBERS NOTES: This time, 'Futty' gets full credit
Details

Stephen Alexander
Spencer praises fans; Zizzo adds some spark, after Nagbe tightens up
Moments after the Portland Timbers' 4-2 victory over the Chicago Fire in their home opener on April 14, defender Mamadou 'Futty' Danso stood in front of his locker answering questions about what happened on his 84th-minute goal off a free kick by midfielder Jack Jewsbury.
---
A Timbers public relations staffer then quietly informed reporters that the score had been changed to an own goal on Fire defender Dasan Robinson.
As Danso looked down, trying to hide his embarrassment with a smile, his teammates began teasing him in good fun.
'Ha ha, Futty had his goal taken away,' one teammate said.
'You're getting desperate,' another teammate said. 'Last year (playing for the Timbers' Division-2 side), you wouldn't have tried to take credit for that.'
Flash forward to Friday night at Jeld-Wen Field and the match against the Philadelphia Union: Danso finally got his first goal of the season - from another Jewsbury free kick.
Futty, who is 6-3 and 185 pounds, out-jumped teammate Jorge Perlaza and two Union defenders to knock the goal in past goalkeeper Faryd Mondragon.
That goal was all the Timbers needed to win 1-0 and continue their perfect home record in MLS play. But it did not stop other Timbers from teasing Futty again.
'The boys were just making fun of me,' said Danso, who hails from Gambia. 'They were like, 'I think they're going to give the goal to Jorge.' I was like, 'You know what? All I care about is the team winning.' I mean, if I score or somebody else scores, all I care about is the team winning.'
Danso did take some satisfaction in having a goal added to his stat sheet, however.
'It feels good to have your own goal,' he said. 'If they gave it to Jorge, no big deal, but I (was) happy they put it on my name.'
• Perhaps in an effort to inspire his club on the road, Timbers coach John Spencer tried to downplay the importance of home-pitch advantage after the 1-0 win last weekend over visiting Real Salt Lake,.
'You think the fans got us nine points at home?' he asked, after the third MLS win at Jeld-Wen Field. 'I don't. The players got that. They came out, they've run themselves into the ground tonight.'
On Friday night, Spencer showed the fans just how much he appreciates them by standing before the Timbers Army and waiving a flag in celebration of the win over Philadelphia.
'I got a little bit emotional at the end of the game there,' Spencer said. 'I don't know if people are getting the wrong impression when I say the fans don't win you the games. Players win the games, I truly believe that.
'But someone said to me tonight, 'Are the fans the 12th man?'. I said no, I don't think so. That would be an insult to the Timbers Army to call them the 12th man. To call them the 12th man, it's not good enough. I would say they inspire me to become a better coach. They inspire the players to put in good performances.'
In case the sight of the Timbers coach waving a flag in front of them and saying that they are more important than a 12th man left any doubt in the minds of the Timbers Army about how much Spencer appreciates them, Spencer reiterated the point.
'I couldn't see myself coaching any other club anywhere in the world except for the Portland Timbers because I love being here,' he said. 'The atmosphere, it sometimes just kind of makes you tear up seeing that the guys have got that much support.'
•• Going against a ruthless Union defense, Timbers No. 2 SuperDraft pick Darlington Nagbe showed flashes of greatness in the first half. The Algerian-born midfielder controlled the match when he had the ball, outhustled Union defenders to win back possessions and had the Timbers' only shot on goal in the first half.
It seemed strange, then, when Spencer pulled Nagbe in favor of Sal Zizzo in the 57th minute.
TRIBUNE PHOTO: JAIME VALDEZ • Sal Zizzo looks upfield during the second half.
Spencer said he made the decision as a precaution for Nagbe's health. At halftime, Nagbe, who missed the beginning of the year after undergoing surgery for a sports hernia, began complaining about a tight groin.
'Obviously, having that sports hernia injury, we didn't want to take any chance,' Spencer said. 'We just said, 'D, can you give us another 10, 15 minutes?,' because in possession he was keeping the ball really well, and he's got a lot of quality on the ball.'
••• While Nagbe played well, bringing in Zizzo proved to be a turning point in the match.
Zizzo had played 111 minutes in the U.S. Open Cup qualifying match against the San Jose Earthquakes on Tuesday. He seemed completely fresh as he took the pitch Friday night, though. His speed on the attack helped wear down the Union defense.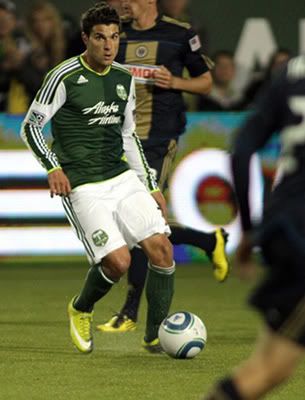 TRIBUNE PHOTO: JAIME VALDEZ • Sal Zizzo on the move against Philadelphia.
'Before going in, the coaches spoke to me and said, 'Right now, we're kind of playing a bit too slow, trying to keep possession, maybe not playing our game,' ' Zizzo said. 'And they said, 'When you get in, just go at people and try to use your speed to get behind and create offense.' '
Spencer had (almost) nothing but praise for the work Zizzo gave the club.
'Sal Zizzo is the type of player that, when he's on his game, I would buy a ticket to watch him play,' Spencer said. 'He excites me. He's the typical, old- fashioned 1950s winger that gets at you one-on-one. At times, he can be electrifying. And, at times, he doesn't listen to me about his shape and he makes me go off my head on the sideline.
'But the best compliment I can pay him is I would buy a ticket to watch him play.'