FONT
SHARE THIS
MORE STORIES
---
Mwanga makes good showing
Details

Stephen Alexander
The rain was pouring before the Portland Timbers' match against the Philadelphia Union on Friday night at Jeld-Wen Field, but one thing was clear: Union striker Danny Mwanga would have no problem adjusting to the elements.
---
Though he was born into the sweltering heat of the Congo, Mwanga has thrived on the pitch in the Northwest. While at Jefferson High, Mwanga once scored 53 goals in nine matches. At Oregon State, he was the Pac-10 freshman of the year and the Pac-10 player of the year.
So, Mwanga was not intimidated by the rain in his first professional homecoming.
'I grew up here and played club soccer here and played high school here,' Mwanga said. 'So I'm used to the rain. It was not that much of a difference for me.'
TRIBUNE PHOTO: JAIME VALDEZ • Danny Mwanga plays the ball in Friday's game at Jeld-Wen Field.
Before the match, Mwanga received modest applause from the Timbers Army when his picture flashed on the scoreboard. That was the last time he would hear cheers for him, though.
'The fans were great, except they were cheering for the other team,' Mwanga said. 'But overall, everything was good.'
Mwanga was relatively quiet for Philly, which fell 1-0 to the Timbers.
'I played all right,' he said. 'I played all right. I was struggling a little bit trying to find the ball and turning and going into the defenders. Overall, every time I got the ball I tried to bring the best out of it. Maybe try to find the ball a lot more and trying to expose the defense a lot more would be better next time.'
Mwanga seemed visibly disappointed in the result. He was happy with the way Philly played on the road, though.
TRIBUNE PHOTO: JAIME VALDEZ • Danny Mwanga looks to receive the ball during the Philadelphia Union's 1-0 loss at Portland.
'We knew it was going to be a lot of pressure and guys were going to come in and fight for the ball for 90 minutes,' he said. 'We had our chances. They had their chances, as well. Overall, we had a great game.'
While Mwanga was not overly generous with his assessment of his play, Timbers coach John Spencer was impressed.
'Mwanga on the night played very well,' Spencer said. 'His touch and his hold-up play and his strength and power were excellent. Good player.'
Mwanga did show one flash of brilliance in the 39th minute. He received the ball along the right touchline and made a great run, creating distance between himself and Mamadou 'Futty' Danso, who was trying to catch up to him. As Mwanga neared the corner, he sent a cross into the box for Union striker Carlos Ruiz.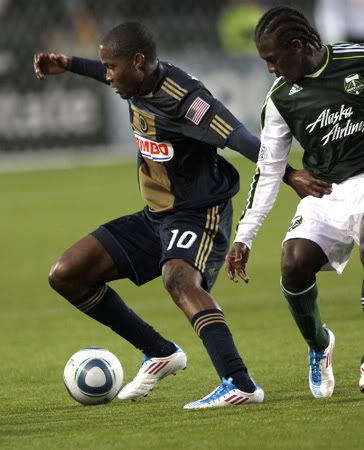 TRIBUNE PHOTO: JAIME VALDEZ •  Danny Mwanga, from Jefferson High and Oregon State, makes a move against the Portland Timbers.
Ruiz was just a split-second late getting to the cross, though. Timbers defender Jeremy Hall cleared the ball, and the threat was over.
'Someone passed me the ball from the side,' Mwanga said. 'Danso was on my back. I just took a slight touch and turned on him. Unfortunately, they got a bit lucky to not get scored on on that play. It was a great play.'
Mwanga has been starting sporadically this season, and his time on the pitch has been limited even when he does start. On Friday night, though, he played the entire match. He said it felt good to be able to stretch out his legs in front of family and friends.
'It was definitely great,' he said. 'Especially playing at home in front of my family and friends. Being out there for 90 minutes and fighting with the rest of the team was a great thing.'
TRIBUNE PHOTO: JAIME VALDEZ • Danny Mwanga tries to get clear.
Among those who came to watch Mwanga play were 400 people from his former club team, the Westside Metros.
'I didn't know they had that many people coming to the game,' he said. 'It just makes me proud. I know those people are looking up to me.'
Mwanga gave his best for the city he has come to call home.
'I didn't know where they were sitting,' he said. 'But I knew they were there watching, so I had to make sure to play my game and make them proud.'
After the match, Mwanga was excited to get out of the locker room so he could attend a private function with about 50 people at The Nines Hotel in downtown Portland.
'It's going to be good,' he said, before heading to the hotel. 'I didn't really get to spend that much time with them before this game, because I was trying to focus on the game. But now that we've played, I'll probably try to go and see everyone and maybe say hello to a few old friends.'