FONT
SHARE THIS
MORE STORIES
---
Dralion
Details

Jason Vondersmith
Rose Garden transformed into 'other world' for 5 days only
Cirque du Soleil returns to Portland with the remade 'Dralion,' with eight performances Wednesday through Sunday, June 15 to 19, when the imaginative and charismatic circus troupe performs at the Rose Garden.
---
Once you see inside the Rose Garden during 'Dralion,' you won't recognize the arena, says James Santos, the show's assistant artistic director.
'It's transformed into this other world,' says Santos, who studiedat Portland's Oregon School of Ballet. 'Half the arena is performing and theatrical space, the other half is backstage and training areas. People will be surprised with the transformation in the arena. We have 18 semis that we travel with.'
For tickets or information, visit rosequarter.com.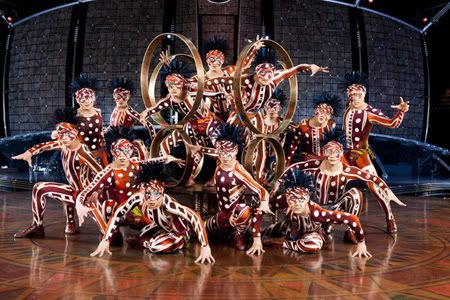 © 2011 Daniel Desmarais • 'Dralion' fuses the 3,000-year-old tradition of Chinese acrobatic arts with Cirque du Soleil's unique multidisciplinary approach.