FONT
SHARE THIS
MORE STORIES
---
Dance project heats up Summer
Details

Jason Vondersmith
10 Questions for Sarah Slipper
As founder and artistic director, Sarah Slipper has big plans for her Northwest Dance Project.
---
Slipper boasts of NWDP being world-renowned, thanks to a network of contacts, among them choreographers from around the world who gather in Portland each year to share ideas on contemporary ballet.
After claiming the 'Audience Award' at the recent 25th annual Hannover Choreographic Festival at prestigious Hannover Opera House in Germany, Northwest Dance Project, a troupe of 10 dancers including Portland's Andrea Parson and Vancouver, Wash.'s Franco Nieto, continues to reach new heights, with more than 100 original works (and counting) performed. Slipper hopes to continue to open eyes and ears in Portland.
'For the work we do here, we should be bursting,' says Slipper, a native of Winnepeg, Manitoba, who founded the Dance Project in 2004. 'It's phenomenal work we do. Nobody's doing it.'
The dance company is unabashedly contemporary, as Slipper adds, 'there's not a tutu in sight, unless somebody wants one.'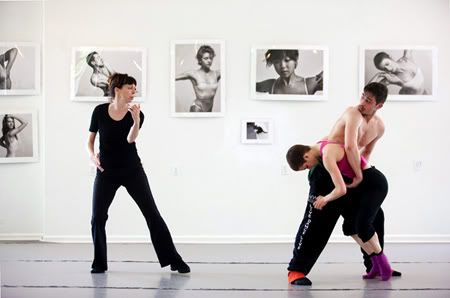 Tribune Photo: Christopher Onstott • A Winnepeg, Manitoba native, Sarah Slipper (left, working above with Elijah Labay and Andrea Parson) has performed and instructed around the world, but she settled in Portland after her stint with the Oregon Ballet Theatre. With Northwest Dance Project (below), she recruits international talent, which practices in an intimate setting off Northeast Alberta Street.
Slipper, who served as ballet mistress and choreographer for Oregon Ballet Theatre for two years in the late 1990s, sat down with the Tribune to share her thoughts on the Northwest Dance Project, which puts on 'Summer Splendors,' with four world-premiere dances June 9 to 18, at its intimate but unique studio space at 833 N. Shaver St. (info at nwdanceproject.org):
Tribune: It was a pretty exciting time before Hannover?
Slipper: It was a work, 'State of Matter,' that we premiered here in the fall (2010), by Ihsan Rustem. We were the only U.S. company invited among 16. But, in the end we had to pay; they usually pay for performers from outside the European Union, but they found out that (Rustem) was British and dancing in Switzerland. They said he was EU. We did an unbelievable fundraiser in three weeks, got the plane tickets donated, supporters giving us money and we got a Kickstarter (campaign going).
Tribune: Impressions of your dancers performances?
Slipper: Just seeing them on the world stage, to see them take classes with another company … they all looked the same. It's phenomenal when you realize that. You see there are no differences (in dancers). … I didn't have any doubts, but I always feel like we're the underdogs. I don't think Portland knows how good this company is, and I've been around the world. They held their own, it was phenomenal to see.
Tribune: What was your biggest worry?
Slipper: That they all made it there (laughs). These guys are a bit fearless. They're quite grounded and humble, gracious. They were a bit nervous in the first round (before the finale), then they realized it was just another performance. It was incredible to see them up there. That's when I realized they were world-class.
Tribune: What are your goals with Northwest Dance Project?
Slipper: To do world touring. We would premiere works here and hopefully Portland wakes up a little bit to what they're getting. What we do, no other company in this country is doing. … (Executive Director Scott Lewis) and I did some business in Berlin while we were over there and we got a call from a German agent who, after seeing the company perform, made sure we were on the books for the German presenters conference, where they do bookings. … I want to make this company better, and it'll be the best in the world.
Tribune: You continue to welcome other choreographers here for instruction, as well as designing dances, why?
Slipper: We're getting so known internationally - the Internet is helping - we're getting choreographers from Europe, Canada, Israel, Australia, all trying to come here to choreograph. Now word is getting out that dancers from Europe want to come here. … Our launch projects are what we're famous for, projects where we bring all sorts of directors and choreographers here, and dancers audition for it.
Tribune: Other choreographers inspire you?
Slipper: I am actually interested in other people's work. I'm not terrified by it, I'm fascinated by it, their choices. I did not want it to be just my work. I don't think choreography can just fill me. It's boring. I like mentoring. … You get this animal, this creature that is unbelievable, and the level gets vested and vested and the art form just goes up. … We are at the forefront of this. We have all this original rep, some of them work, some of them don't work. We take the best of it, and now we have a product nobody else has, and we want to tour it.
Tribune: After your dancing career, you went back to school to study theatre?
Slipper: It was theatre that got me back choreographing. Then I got pulled down here (in 1999), and theatre had opened doors of creation up. After I left OBT, I based myself here, got my green card as a freelancer.
Tribune: Opening the Northwest Dance Project studio was your dream?
Slipper: This organization became a feeder for when creation started shutting down for me. When I saw other people struggling to find a forum to explore and create, this real pressure to have a hit … I wanted to found a platform where you wouldn't have the pressure of always doing your best. Sometimes you were just exploring.
Tribune: You got into a creative funk, but Andrea Parson (one of six 2010 Princess Grace Award winners) helped get you out of it?
Slipper: Andrea took a chance with me. I had never done a solo (choreography). I was burned out the first year of starting this company, and I had to do something, and I decided to do this solo. I did a 14-minute solo for her to Samuel Beckett's 'Not I' monologue. She was alone on stage, with a voice-over monologue by Beckett, a non-stop diatribe. She gets dumped in water at the beginning of the piece, with a live video feed on her the whole time. There was this part where she had to scream, 'Ahh! Ahh!' It was a hard piece even for an actress to do; Juliet Stevenson did it. The piece was submitted for the Princess Grace, and Andrea brought the house down (at the Newmark Theatre, 2009).
Tribune: You'll have a unique twist with 'Summer Splendors?'
Slipper: Usually I tell dancers all their movements, and I'm trying with this piece to put control with the artists. The duet is 20 minutes long, and I'm going to let them make a choice in the ending. They can have the choice of two endings. It'll be Andrea with Elijah Labay and Joni Tuttle with Franco. Alternate nights, alternate endings. It's out of my control. And (the woman's) eyes will be closed at the end. They won't see what's going on.