FONT
SHARE THIS
MORE STORIES
---
Officer not down: Police keep it safe
Training pays off for bureau as fewer officers die on duty
In the past few years, the Portland Police Bureau has come under scrutiny for its use of force against minorities and residents suffering mental illness, and the U.S. Department of Justice announced Wednesday it will review use of force by Portland police officers to determine if they routinely violate civil rights. In addition, in a widely publicized federal court case, police bureau administrators recently admitted that a training supervisor had consistently bent bureau rules.
---
But another critical aspect of policing has escaped notice: Portland police do an excellent job keeping their officers safe.
U.S. Department of Justice statistics show that fewer Portland police officers are killed on the job than officers in most cities of comparable size. In fact, the last Portland officer killed on duty was Kirk Huffstetler, who died in 2002 when his police car struck a concrete barrier on North Marine Drive while he was tracking a robbery suspect.
Criminologists say that one of the greatest predictors of officer deaths is the use of force by police, which indicates police are confronting violent situations. A special 2009 police bureau task force report revealed that officers here use force at a rate comparable with similar-sized cities. Yet Portland officers are rarely killed in violent encounters. The last Portland officer killed as the result of a felonious assault was Colleen Waibel, who was shot in 1998 during a drug raid on a house.
Nationally, the number of police officers killed on duty has been steadily declining since its peak in 1973, when 279 died. In 2010, 162 officers were killed, a sharp rise from 117 in 2009.
The low death rate for Portland police is not a recent phenomenon. Portland police have lost only 13 officers since 1945. In that same time period, Seattle has lost 24. Even Minneapolis, considerably smaller than Portland, has lost 19 officers since 1945.
Clearly, something here is keeping Portland officers safe. Portland police Field Training Director Lt. David Virtue says officer safety is very much a part of the bureau's culture. The training division emphasizes scenario-based training, in-service retraining and officers sticking to department policy, Virtue says.
National experts in policing say those are critical elements influencing officer safety, along with tight supervision.
'Training is not equal across the country,' says Terrence P. Dwyer, an assistant professor of legal studies at Western Connecticut State University who represents police officers charged with misconduct. Dwyer, a former New York state police officer, says police departments vary in critical policies, and in how well they make sure officers stick to those policies.
'I'm amazed that still, in this day and age, there are departments that don't have coherent use of force and coherent vehicle chase policies,' Dwyer says.
---
---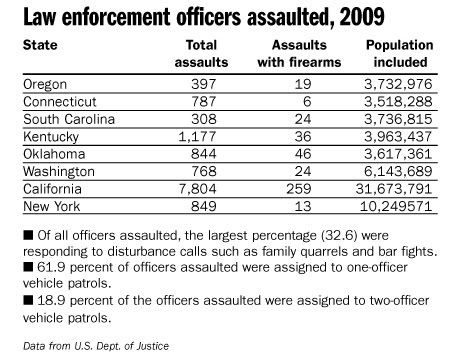 ---
Chase policies
Dwyer regularly works as a consultant to police departments around the country. He says departments develop different cultures. Some stress safe practices and emphasize training and retraining, and some don't. The officers know which are which, Dwyer says.
'You take any good cop and you put him in another jurisdiction and within 15 minutes they'll be able to tell you whether that department is squared away and on the ball,' he says.
One example, Dwyer says, is the use of protective body armor. Despite numerous studies showing bulletproof vests save officer's lives, Dwyer estimates that as many as 30 percent of officers don't always wear their vests on the street. That is especially true in the South, Dwyer says, where heat and humidity make the vests uncomfortable.
Another example is high-speed chases. More than half of all officer deaths are the result of police car or motorcycle accidents. That means high-speed chases should be used with discretion, say Dwyer and other experts. But that's not always the case.
'A lot of departments are very strict and some have absolutely no chase policy,' Dwyer says.
Virtue says all Portland officers on patrol wear their vests.
'That's not even an issue here in Portland,' he says.
When a Portland officer initiates a high-speed chase, Virtue says, a supervisor is on the car radio monitoring his or her every move. If the risk represented by the chase is greater than the reward represented by apprehension of the suspect, the chase is called off. Supervisors listen for the demeanor of the officer and signs that adrenaline is overriding safety.
As a result, Virtue says, situations that used to result in chases now sometimes don't.
'Some departments may have it as part of their policy, but it isn't ingrained. In our culture we understand the dangers of pursuit,' Virtue says. 'You'll hear officers terminate their own pursuits because of risk, and that was not part of our culture 20 years ago.'
Another change occurred in the late '90s, Virtue says, after officer Thomas Jeffries was shot and died while chasing a suspect on foot. Patrol tactics instructor Lacey Sparling says Portland officers are now more careful chasing suspects.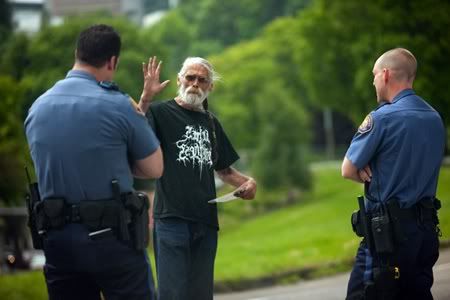 Tribune Photo: Christopher Onstott • Portland police are required to wear protective vests when they're on duty - critical, experts say, in saving officers' lives.
If a suspect is out of sight for a second, Sparling says, officers are instructed to slow down and consider their options, even if it means the suspect might get away.
'We don't blindly run around corners,' Sparling says.
Experts say another factor critical to officer safety is backup. Officers who approach potentially dangerous situations alone are more likely to get hurt. Portland police policy requires at least two officers for every emergency one or emergency two call, which covers crimes in progress and domestic violence calls. An officer who says he wants to take a call by himself has to get permission from a supervisor.
Portland police have compromised on officer safety in recent years by emphasizing patrol cars with only one officer rather than two. The policy allows fewer officers to cover more area, but can leave officers vulnerable. That's something the bureau might reconsider, according to its instructors.
'It's nice to have a partner there in case you do come on something,' Virtue says.
New Portland officers get an 18-month probationary period, longer than in some other cities, and Virtue says that's a plus, as young officers get more time in a patrol car with a mentor.
On the other hand, Virtue says most urban police departments have comprehensive training facilities where officers can be run through policing and driving scenarios. Portland police instructors say they struggle to find vacant parking lots where officers can practice driving skills and creative ways to present on-foot scenarios without a dedicated facility.
'We have made it work without the resources we need,' Virtue says.
Those resources may be forthcoming, however. In May, Mayor Sam Adams said he would support spending $15 million for a new police training facility to be built near Portland International Raceway.
Taking short cuts
Practicing those scenarios is critical, says Chuck Miller, coordinator of the Federal Bureau of Investigation's Law Enforcement Officers Killed and Assaulted Program.
Miller says that one of four police officer felonious deaths results from an attempted arrest. Most of those deaths could have been prevented if officers hadn't strayed from policy in handcuffing a suspect or approaching a stopped car. Even something so simple as failing to wear a seat belt can have fatal consequences, Miller says.
That's where supervision comes in, Miller says, along with supervisors willing to get tough. If an officer is discovered in a police car not wearing a seat belt, a letter should go in his or her personnel file, Miller says. In some departments it does, and in some it doesn't.
'You've got cops all over the country not wearing seat belts, and they're getting killed,' he says.
Often, Miller says, young officers are doing their jobs by the book, and more experienced officers are not.
'Who do you think is dying out there?' Miller asks. 'You think it's the rookies? It's the older guys. The average length of service (of officers killed) is 10 years. It's because they've gotten comfortable with their positions and they take short cuts handcuffing, they take short cuts on traffic stops and short cuts in arrest situations, calling and waiting for backup.'
Lorie Fridell, a University of South Florida criminologist who has studied police department policies and their relationship to violence against police, says that police use of force is a critical component in determining officer safety, in a number of ways. For instance, departments that she terms 'more aggressive' suffer more assaults on their officers.
Managing that thin line between being assertive and over-aggressive is one of the toughest tactical choices an officer makes, says Portland training director Virtue.
'On the one hand you don't want to create a sense of vulnerability, on the other hand you don't want to escalate,' Virtue says.
The best solution, Virtue says, is superior manpower at the scene - two officers rather than one.
In recent months, a new 9-1-1 system that provides information to law enforcement agencies throughout Multnomah Count has drawn criticism from officers who say they aren't getting all the information they need when they head out on a call. That's dangerous, Fridell says.
An officer approaching a home who doesn't know if the people inside have a criminal history, or a history with guns, is more likely to make a bad decision, Fridell says.
'What we have found is officers who have more information end up being less likely to use deadly force,' Fridell says. 'The more ambiguity, there is more likelihood an officer will use force, and I would conjecture, the other way (that officers are more likely to have force used against them).'
Virtue and fellow instructors aren't willing to say their training and bureau policies are completely responsible for safer Portland officers. For starters, violent crime is lower in Portland than in most cities. Also, Sparling points out that a number of Portland officers (four) have been shot in the last year, though none fatally.
Since 1999, 13 Portland police officers have been shot at and seven hit, according to police bureau statistics. Federal data does not track non-fatal assaults on officers by city, but Oregon's rate of officers wounded in the line of duty is lower than most states with similar populations.