FONT
SHARE THIS
MORE STORIES
---
Stains on the Rose City
Portland police officers try to wipe out 'art' by city's prolific taggers
The mural at Southeast 33rd Avenue and Hawthorne Street has a big message sprayed on portraits of literary greats Fyodor Dostoyevski, Sylvia Plath and Tennessee Williams.
---
Graffiti taggers hit the neighborhood landmark June 8. Below Dostoyevski's head and his famous line - 'Men reject their prophets and slay them' - three-foot-high letters spell 'Fun Boy' in green and black paint.
Portland Police Officer Tony Zanetti was horrified. He called local business owners, who told him the damage was greater than $1,000. The 14-year-old mural would require a restorer's touch.
Because the cost of restoration will be considerable, Zanetti plans to charge the tagger responsible for the graffiti with a felony instead of a misdemeanor.
'How absolutely needless to destroy a mural that's been in the neighborhood for so long,' he says.
The Hawthorne case was one of Zanetti's first projects since the city brought him to the police bureau's graffiti unit in May to counter the apparent rise of graffiti culture in Portland.
Police across the country link an upsurge in graffiti to the increased mainstream popularity of street art and the reputation of Portland as a city that's soft on vandalism. Though less than 15 percent of local tagging is gang-related, graffiti often fosters other criminal activity, according to city officials who deal with the vandalism every day.
Portland's streets are showing the trend, and the city is responding.
'I've seen the proliferation of graffiti around the city,' says Mayor Sam Adams. 'We have resources going into it.'
Adams worked with City Commissioner Amanda Fritz during the past few months to create Zanetti's position and a volunteer coordinator role, using $158,600 in city funds. The jobs and their funding will be re-evaluated next June.
Local graffiti writers already circulate the name of Officer Matt Miller, who was the city's only graffiti investigator until Zanetti joined the unit.
Tribune Photo: Christopher Onstott • The Portland Police Bureau's graffiti unit was run by just one investigator, Officer Matt Miller (above), until a second position was added this spring. Here, Miller scans graffiti left on walls in the northwest industrial area.
'Portland used to be known as a place where vandals could come without fear of prosecution, without fear of much happening to them,' Miller says. 'Over the last few years, that's changed dramatically. This is a game I play with these guys. They only need to slip up once and I'll bury them.'
Miller and Zanetti use an online database launched a few months ago to categorize personal monikers - 'tags' - of graffiti writers, tracking damage. They worked with Gresham police to build a case against Timothy Tobiason, a major graffiti writer from Oakland, Calif., whose tag name is Pink Eye.
His Portland arrest in late May for vandalizing a bench exploded into a 14-count indictment.
Visibility and risk
Portland graffiti writer Jimmy Fishel, known as Gime - which he says stands for Getting Into Mischief Everyday - was confronted by police in his front yard last fall after fellow graffiti writer Koer told officers where he lived. Fishel confessed his moniker.
Gime's graffiti career spanned a decade of tagging in Portland, including more than 20 arrests. The 27-year-old remembers Miller calling him from a building near his Southeast Portland home months before his latest arrest and telling him to watch out.
'He ruined my life,' Gime says, shaking his head. 'The reason I don't want to do graffiti in Portland anymore is him. I'm done. I told Matt Miller, 'Dude, I'm done. Don't harass me anymore.' '
For years, Gime says, his girlfriends wrote him tearful letters accusing him of putting more effort into graffiti instead of relationships. That didn't deter him.
Gime and other Portland writers were featured in the underground graffiti film '5 AM,' which Gime blames for his increased visibility to local police. In the film's opening sequence, a rap by artist Black Milk pays homage to 'the most underestimated plus underrated city in this hip-hop game.'
Portland taggers are recognized from San Bernardino to Boston, where Tyson Andrade was arrested in 2000 after writing his tag, Cayper, in Portland and across the United States for years.
Tribune Photo: Christopher Onstott • Jimmy "Gime" Fishel has been arrested more than 20 times for graffiti-related crimes and is a prominent figure on the scene in Portland.
'I got a call out of the blue from Oregon,' says Lt. Nancy O'Loughlin of the Boston Police Department. 'They were asking me about this kid, Cayper. These kids travel all over the world. Our vandals go there, and your vandals come here.'
Some travel agencies put together packages to attract taggers who want to tour Europe, and Miller saw pictures of Portland graffiti in Japan.
Internationalism is part of the criminal's desire for fame, according to Sgt. Dwight Waldo of the San Bernardino police department. A graffiti investigation expert, he trained Portland police this May.
'It's all about visibility, longevity and risk,' Waldo says. 'These people only care about being big in their little world.'
Ask notorious Seattle graffiti writer Samuel Lehtinen - ZEB - who's serving a 24-month sentence in the Oregon State Penitentiary after he brought his prolific tag to Portland and was convicted of stealing a taxi and leading police on a 130-mph chase last summer. He remembers Miller photographing his tattoos when he was arrested.
'For me, it's been about who can be the most infamous writer,' Lehtinen says by telephone from the penitentiary's mental ward, where he's on 23-hour lockdown because he spit in a prison officer's face. 'It doesn't matter so much what some graffiti looks like, only how much I see it on the streets. Most spots I get are downtown street-level spots when I'm wearing dark clothes. It felt good, seeing my stuff on a daily basis. I liked to take the bus and see my name all over the city.'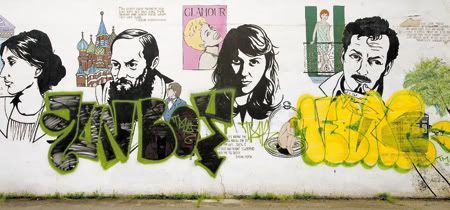 Tribune Photo: Christopher Onstott • Graffiti taggers Fun Boy and KBar hit the 14-year-old neighborhood mural at Southeast 33rd Avenue and Hawthorne Street (above) on June 8. The damage was greater than $1,000.
'Until I die'
Portland's Graffiti Abatement Program works with the police unit to stop the vandalism, focusing on removal. Coordinator Marcia Dennis oversees neighborhood graffiti cleanups and a graffiti hotline (503-823-4824). She says a new application allowing Portlanders to report graffiti from their iPhones has increased the volume of disclosed incidents.
'We will never have enough hired staff to remove all the graffiti that is put up,' said Fritz. 'I think it's important to recognize that we need more volunteers.'
According to Dennis, city leaders were motivated to increase funding of anti-graffiti efforts because one of Dennis' volunteers won a Spirit of Portland award last year and drew attention to the cause. Tom Barnes of Southeast Portland, the 2010 winner and the cofounder of the East Portland Graffiti Cleanup Program, used his acceptance speech to thank Dennis, 'who was overworked and understaffed.'
Dennis LoGiudice joined the program as a volunteer coordinator in mid-April, helping private property owners remove graffiti and rallying neighborhood associations to volunteer.
A grant proposal he helped write was adopted by the City Council and $40,000 went to neighborhood districts to create cleanup teams and to buy graffiti removal supplies.
'It's important to make sure we have clean streets,' LoGiudice says. 'I hope that's not too pie-in-the-sky.'
Hawthorne Boulevard business owners, meanwhile, are looking to find an artist who can repaint the 33rd Avenue literary mural. According to Nancy Chapin, executive secretary of the Hawthorne Boulevard Business Association, the group's e-mail listserv was flooded by messages after the mural was tagged.
'Who are these people, anyway, who think their thing is more important than other people's art?' she says. 'I'm outraged.'
Portland graffiti writer Oger, who asked that his real name remain confidential, explains why he views graffiti as art: 'What set it off was seeing my homey catch a fat-cap tag with an old can of Krylon and a pink dot. The way those two work together is beautiful.
'It takes a long time to perfect,' Oger adds. 'There's colors, composition. Once you get the feeling of painting as big as you can, as high as you can, as wide as you can - it's different than drawing on paper. I'll continue to do it until I die.'