FONT
SHARE THIS
MORE STORIES
---
Metro seeks online survey help
Agency says a good mix of people needed to boost accuracy
Metro wants to hear from people who don't usually follow its activities - especially Republicans, minorities, men, the young, the old, those without a college degree and residents of Clackamas and Washington counties.
---
Those are the people the elected regional government needs to sign up for its online surveys on pressing issues.
Although more than 4,600 people in the region are already registered for the surveys, they are mostly Democrats, white, female, 35 to 55, college educated and residents of Multnomah County.
'We need the surveys to accurately represent everyone in the region,' says Metro spokesman Ken Ray.
Metro launched the online surveys in January. Called Opt In, it is intended to give regional residents an easy way to comment on issues being considered by the Metro Council, which represents the urbanized portions of Clackamas, Multnomah and Washington counties.
Surveys have so far asked participants about planning for the Oregon Zoo, management of natural areas, opinions on land use and climate change, and the qualities that should be sought for Metro's next chief operating officer.
Beginning this week, Metro is seeking opinions on whether and where to expand the region's urban growth boundary. Metro administers the Portland-area boundary to determine where new growth should occur in Washington, Clackamas and Multnomah counties. State law requires that the boundary be periodically adjusted to ensure it always contains a 20-year supply of buildable land.
The council is scheduled to vote on urban growth boundary expansion by the end of this year. The new survey includes information on where areas are proposed for both new residential and industrial construction. It also includes maps to help identify those areas under consideration.
All participants are required to answer a series of demographic questions, including name, address, e-mail address, age, education, income and occupation. Metro promises the information will be confidential and not be sold.
Registration is handled through the survey's website, www.optinpanel.org. Participants are notified when surveys are being conducted by e-mail.
The urban growth boundary survey will end Aug. 1.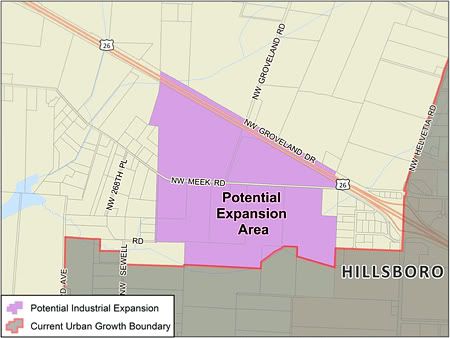 Courtesy of Metro • Industrial development could occur on these 310 acres in North Hillsboro.
Growth opinions
Metro's seven-member commission serves more than 1.5 million residents in Clackamas, Multnomah and Washington counties, and 25 cities in the Portland region.
Administration of the urban growth boundary is one of Metro's most important responsibilities. The boundary was created to comply with Oregon's land-use planning laws that call for striking a balance between urban and rural lands. Metro must continuously assess whether there is enough land within the boundary for future homes and businesses. If not, the council must expand the boundary to accommodate projected future growth.
This year, the council is considering expanding boundary to include 310 acres for new industrial land along Northwest Meek Road south of the Sunset Highway in Hillsboro. It is also considering adding up to 3,457 acres for new homes throughout the region:
• 1,063 new acres south of Hillsboro and along the Tualatin Valley Highway for more than 7,000 new homes, in an area that has received preliminary planning by the city of Hillsboro.
• 256 acres at the intersection of Southwest Roy Rogers Road and Southwest Beef Bend Road, west of Tigard, to help complete the West Bull Mountain Plan area.
• 543 acres south of Cooper Mountain and west of Beaverton for new homes and neighborhoods.
• 210 acres at the southeastern corner of Cornelius to provide more residents and support economic activity and jobs in the city's revitalized downtown area.
• 496 acres west of Sherwood near Highway 99W and Southwest Kruger Road to help meet anticipated housing demand.
• 316 acres adjacent to Wilsonville to the east, around Advance Road, which might help complete an adjacent area, near Frog Pond, that is already inside the urban growth boundary.
• 573 acres in the Maplelane area east of Oregon City, near a previous growth boundary expansion area that remains undeveloped.
Metro will host an open house on the potential expansion areas from 5 to 8 p.m. Thursday, July 28, at the Hillsboro Civic Center Auditorium, 150 E. Main St.
The council will hold a hearing on the potential expansion at 5 p.m. Thursday, Oct. 6., at a location yet to be determined. Amendments will be considered at the council's regular meeting on Oct. 13 at the Metro Regional Center, 600 N.E. Grand Ave.
A final vote is scheduled for Oct. 20.
Results online
Metro may be the only government in the country using online surveys on a regular basis. The surveys are also supported by the Northwest Health Foundation, the United Way of the Columbia-Willamette and the Portland State University College of Urban and Public Affairs.
The online surveys are done by the Portland polling firm of Davis, Hibbitts and Midghall Inc., which also conducts traditional polls for Metro and other governments in the region.
According to Ray, the questions on each Opt In survey are proposed by Metro staff and rewritten by the pollster to better reflect professional polling standards. Depending on the number of questions and amount of rewriting and computer programming required, costs range from $5,000 to $10,000 per survey.
Results from each survey are compiled, shared with the Metro Council and released to the public. They are available on the survey's website, along with a list of frequently asked questions about the surveys and updated demographics on the participants.
For more information on Metro, visit its website at www.oregonmetro.gov/greatplaces.