FONT
SHARE THIS
MORE STORIES
---
Center says Portland transportation costs about average
A new analysis of transportation costs ranks the Portland area as the 18th most affordable major city in the nation.
---
According to the Center for Neighborhood Technology in Chicago, a typical Portland-area family can expect to pay about $13,400 a year in total transportation costs, close to the national average.
Much of Portland's favorable ranking occurs because of extremely low transportation costs for those living close into downtown, the center reported this week. The organization used U.S. Census data to break down the average family transportation cost for nearly every neighborhood in every major city.
Residents in downtown Portland and close-in neighborhoods such as South Waterfront and the Pearl District average about $6,400 a year in transportation costs. Some neighborhoods toward the metro area's edges average more than $19,000 per household in average transportation costs.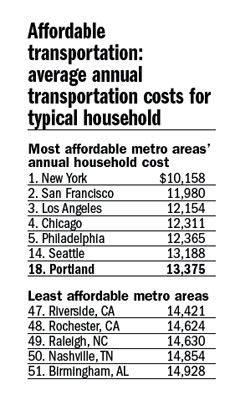 National rankings show that larger, denser cities clearly have an advantage when it comes to lowering transportation costs. New York, San Francisco and Los Angeles rank at the top.
While Los Angeles' high rating might surprise many because of the heavy reliance there on driving rather than public transportation, Scott Bernstein, president of the nonprofit Center for Neighborhood Technology, says that eight of 10 trips for a typical household do not involve getting to or from work, and that many Southern California residents have all their shopping needs nearby.
Bernstein calls transportation expenditures a major hidden cost of living. Realtors, he says, typically provide cost-of-living data to prospective homeowners, but rarely include transportation costs.
'(Listings) might say 'transportation is nearby,' ' Bernstein says. 'What you'd like to know is what people are typically paying per year to live in that neighborhood and to try to get around.'
Average household transportation costs for Portland residents are $11,900 per year. Clark County, Wash., residents average $14,600 per year, and Scappoose residents average $15,300. Washington County residents average $13,700 per year.
According to Bernstein, transportation costs have increased faster than housing costs in the past decade, and both have gone up faster than family incomes. Nearly 30 percent of a family's income nationwide is dedicated to housing expenses,and 27 percent goes for transportation costs. Fifty years ago, Bernstein says, transportation costs took about 15 percent of a family's income.
For information on how much it costs to travel from many Portland-area neighborhoods, check the Center for Neighborhood Technology's website, www.htaindex.cnt.org/map/.