FONT
SHARE THIS
MORE STORIES
---
Citys compost plan raises stink
North Plains takes hard line in fight on food waste plant
Every summer, North Plains lures visitors to its Elephant Garlic Festival with the playful slogan, 'Where fun stinks.'
---
Now, North Plains residents fear they're getting saddled with a permanent reputation as 'the city that stinks' - because of a smelly compost plant that processes Portlanders' kitchen scraps.
More than 320 odor complaints have been filed since Dec. 1 against the Nature's Needs plant near the Sunset Highway. The complaints began soon after Portland's curbside residential food composting system launched.
'It's just permeating the air. It's like being next to a landfill,' says Brenda Leppo, co-leader of the new protest group Stop the Stink.
The dispute in the small city northwest of Hillsboro is eerily familiar to those who recall Portland's pioneering effort to compost municipal garbage in the early 1990s, when Northeast Portland residents' odor complaints blocked a $28 million Reidel plant.
The controversy is tarnishing Portland's effort to join San Francisco and other green-minded cities that convert kitchen waste to commercial compost rather than truck it to landfills, where rotting food emits a potent greenhouse gas.
Bruce Walker, Portland's solid waste and recycling program manager, isn't panicking. He's impressed by improvements made by Nature's Needs owner Recology Inc. since the odor problem worsened in November. Portland is sending 40 percent of its kitchen waste and yard debris to another compost plant near Corvallis, Walker notes, and other plants are in the works.
But the Nature's Needs battle is a major setback for Recology, the San Francisco company that claimed to have mastered the large-scale composting process and seeks to dominate the industry in Northwest Oregon, with similar plants planned in McMinnville and Aumsville.
DEQ's scathing letter
Washington County commissioners were close to approving a permanent food-composting operation at Nature's Needs after the company made it through last summer's trial period processing food from Portland-area restaurants and groceries, along with yard debris.
But conditions soured when Portland's curbside residential food waste program began on Halloween.
In the face of citizen protests about foul odors, county commissioners decided in December to extend Recology's pilot program another year, rather than grant permanent approval.
Then, on Feb. 1, Oregon's Department of Environmental Quality issued a scathing warning letter to Recology, faulting the operator for failure to address odors, perform rudimentary cleaning between the compost piles, cover incoming deliveries and prevent flocks of gulls from feasting on the food scraps.
County staff then capped incoming food and yard debris deliveries at 150 tons a day, far less than Recology handled in the fall.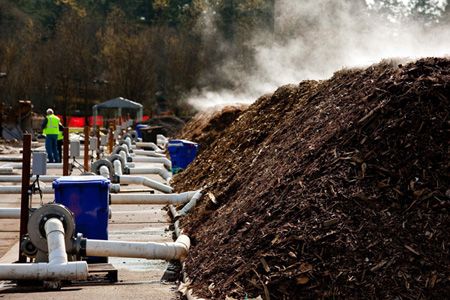 Tribune Photo: Christopher Onstott • The Nature's Needs composting facility relies on a system of reverse blowers that suck air out of long piles of compost as its forming. The pipes then funnel it into a biofilter, mostly wood chips, to help reduce odors at the North Plains facility.
Moved up timetable
How did Recology, considered one of the leaders in the field, mess up so bad? And can the company solve the problems?
Last April, Dave Dutra, Recology's general manager for northern Oregon, said Nature's Needs would be ready for the start of Portland's residential food waste pickups - in the spring 2012. However, Portland Mayor Sam Adams wanted the curbside program to start sooner, Dutra says. Dutra figured he had four months' lead time and promised Recology would be ready by Halloween.
It wasn't.
'They got caught with their pants down,' says North Plains Mayor David Hatcher.
Contractor delays, rainy weather and other factors delayed planned site improvements, Dutra says.
Shipments from Portland turned out to equal 60 percent of the waste stream, more than the anticipated 50 percent.
Portland's curbside food waste pickups started just as the peak fall yard debris season began, when fall leaves filled the buckets. Daily volumes grew from 100 tons a day to 400 tons 'in the flip of a switch,' Dutra says.
Trucks filled with yard debris and kitchen waste kept arriving as construction crews built promised site improvements. Adding to Recology's woes was an unusual air inversion layer last December that trapped odors in the region.
'It was a perfect storm,' says Theresa Koppang, Washington County's solid waste program manager.
North Plains residents deluged the county, DEQ and Recology with odor complaints, some of them directed at Portlanders.
'It's so horrible that we have to live with the stink created by Portland,' wrote one resident. 'Let them compost their stuff in their own community and let us do the same.'
North Plains made it easier to file complaints via email. A review of DEQ records showed some residents filed more than a dozen complaints each.
Improvements under fire
Under pressure from regulators, Recology has made significant site improvements in recent months, and it's not done yet.
The company paved land under the compost beds, added raised berms and a slotted drain to contain and funnel any liquid leaking from the beds, says Greg Pryor, a Recology general manager brought in from the company's Vacaville, Calif., compost plant. A large tank is being built to process the leachate, and temporary tanks were brought in to handle the job until the work is completed.
Recology hired Al Ingram and his trained peregrine falcon, Buddy, to scare off dozens of gulls that were feeding on the piles of compost each day. The gulls got the hint that they weren't welcome after a couple weeks of Buddy patrolling the site.
The most important improvement was to go from 14 to 26 elongated compost beds, Pryor says.
Recology relies on negative aeration, a system of pipes that suck the air out of the beds and then funnel it into a biofilter of wood chips. That removes about 90 percent of the volatile organic compounds that cause bad odors, Pryor says.
The added beds meant Recology could continue the aerating process for 28 days instead of 14 days, according to a December report filed by Stephanie Rawson, DEQ solid waste compliance specialist.
New blowers are on order that will double the air power of the aeration system, Dutra says.
Recology added staff, including one employee assigned to investigate odor complaints.
Recology also plans to install a concrete building to largely enclose deliveries of new material, though it wants permanent approval from the county before beginning construction.
The odor problem wasn't really about food waste, Dutra contends, because Nature's Needs processed commercial food waste last summer with few complaints. But the facility didn't have the capacity to adequately deal with the surge of deliveries last fall, he says.
'We might have tripped,' Dutra says, 'but we're back at a steady pace today.'
Complaints down
It's not clear yet if the improvements will pass muster with regulators or residents.
Odor complaints have fallen in the past few weeks, Koppang says. But they are still occurring regularly. On March 7, six people filed odor complaints.
Leppo acknowledges that the odor problems have been reduced, but is skeptical that will continue.
'The reason it is better, to my knowledge, is because today they are not taking in as much as they were originally,' she says. Koppang expects gulls to return once the falcon leaves, and says air inversion layers will recur.
Recology needs to run the plant at full capacity to make Nature's Needs profitably pencil out, Dutra says. Recology will need the county to lift the 150-ton daily cap once the spring peak season begins, when Portlanders start mowing their lawns again.
Hatcher says most North Plains residents are willing to give the company time to get its operations in order, but their patience isn't endless. The city will actively fight the food composting operation, he says, 'if by the end of summer we're not seeing any improvement.'