FONT
SHARE THIS
MORE STORIES
---
Refugees often still strangers in strange land
New life in Portland isn't always easy for those escaping hardships
Monique Detoloum still hasn't adjusted to our cold weather and finds English terribly difficult to learn.
---
But the new Portland resident has found peace for herself and her four children, after surviving a reign of terror in the Central African Republic and six years in limbo in neighboring Cameroon.
Monique no longer has to sleep on the floor and can finally send her children to school. Though she still feels isolated, she says the people of Portland are "gentle," in contrast to the brutality she faced back home.
Monique and her children arrived here in late October, settling in East Portland. They are among the 944 refugees from more than a dozen nations who resettled in Oregon last year, mostly in Portland. Nearly 60,000 refugees from around the world have landed here since 1975. That's an average of 135 newcomers a month, a steady stream of foreigners who are gradually expanding the Portland area's ethnic mix and forever changing its complexion.
Monique grew up in Bedaya, a village of more than 1,000, working the fields all day, never attending school. No one owned land, she says through a French interpreter, so villagers would simply plant where they found available soil.
She'd wake up each morning, wash her face, then head to the fields to plant or harvest cassaba, yam, potatoes, corn and peanuts. Then she'd gather and haul wood for cooking, make peanut oil and prepare dinner.
At 15, Monique married Bered Philemon, a man from a neighboring village who shared the same Christian denomination, the Church of the Brothers. The marriage took place after he paid a dowry and worked for her father one year.
Her face lights up as she recalls her husband, appreciating him as someone who fished and hunted to help feed the family, and provided her money to buy clothes.
They lived in a house built of bricks made from soil, with a roof made of leaves. They raised a cow, chickens, pigs and a goat.
In 2003, Gen. Francois Bozize deposed the president of the Central African Republic, Ange-Felix Patasse, in a coup. Rural villagers didn't know what was occurring in the capital of Bangui, Monique says.
In 2004, armed skirmishes between the two rival forces spread to her area, and innocent people were killed, she says.
In a panic, Monique, her husband and four of their children fled into the forest. Her fifth and oldest child, a son of about 11, ran in the opposite direction. She never heard from him again.
Tribune Photo: Christopher Onstott • African refugee Monique Detoloum (left) serves foo foo, dumplings made of cassaba flour and water, to her children as they eat in shifts. Monique says she's lonely here, but her children are making friends at school and in the apartment complex.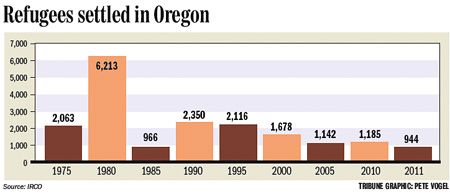 The family waited for days in the forest for the fighting to stop, but there was little to eat. So her husband ventured back into the village to get some food. There Bozize's forces murdered him, Monique says, though he had no allegiance to either side.
"He was a village man," she says. "He knew nothing about things going on in the capital."
She marched her four young children through the forest for a week. Their only sustenance was water from a river.
They eventually made it west to a refugee camp in Yaounde, capital of the Republic of Cameroon. Monique found work washing people's clothing, cooking in a restaurant and other tasks.
Her native language is Kaba, but she picked up French.
For six years, the family remained in limbo, scraping by on her $40 monthly pay. She didn't earn enough to send her kids to school, and slept on the floor of her small rented house.
"To find food was a big problem," she says.
While there, Monique was advised to apply for permanent refugee status in the United States.

Many hurdles
Qualifying as a refugee here is no simple matter, and requires going through several official hoops, which can take many years.
First, applicants must demonstrate to the United Nations High Commissioner for Refugees that there is a "well-founded fear of persecution" if they return to their native land, says Cecilia Baricevic, a program manager for Catholic Charities in Portland who has worked with refugees since 1975.
Then, the State Department interviews candidates and performs a security check.
Voluntary agencies, such as Catholic Charities, work with the federal government to pick a state to resettle the candidate.
Somewhat arbitrarily, since Monique had no family or connections here, she was assigned to Portland, aided by Lutheran Community Services Northwest.
Agency staff picked up Monique's family at the airport, found her housing in an apartment on Southeast Division Street near 126th Avenue, helped enroll her children into David Douglas schools, arranged medical screenings and financial support.
Within her first week in town, Monique was referred to East Portland's Immigrant and Refugee Community Organization, which offers employment training and referrals, among other services.
Tribune Photo: Christopher Onstott • Sisters Oungourai Pelanie (above, left), 13, and Mbake Rosine, 10, laugh and play on the floor of the family's sparsely furnished apartment in East Portland. Their mother, Monique Detoloum (below, right), enjoys pre-employment training offered by the Immigrant and Refugee Community Organization in East Portland, though she's struggling to learn English.
Refugees are expected to be weaned off cash payments and working to support themselves within eight months, though single parents with young children are eligible for public assistance if they can't find work.
Four days a week, Monique attends two-hour classes at IRCO designed to teach her English as part of pre-employment training.
Interviewed about six weeks after her arrival, Monique knew how to get to IRCO and the Winco grocery store on Northeast 122nd Avenue, but hadn't ventured further on her own. She was too flustered to think about going downtown, feeling pretty helpless without any English skills.
But she was happy to be here.
"I'm happy because my children can sleep well and eat well and succeed," Monique said.
Now, after five months, here she is still having trouble adjusting to cold weather. She just experienced her first snow, and says she doesn't like it.
The family's two-bedroom, one-bath apartment is sparsely furnished, with little light and not enough heat to stay warm. But there's a small television in the living room, something they didn't have in Cameroon.
Her children, just home from school, sit quietly as she talks, but later are eager to show off their bedroom and school pictures.
They are making friends at school and among neighbors in the apartment complex, Monique says. And they are willingly adapting to their new culture. "At school, they see American kids, they like to wear jeans and sneakers," she says.
Monique manages to find cassaba flour to make simple dumplings with gravy for dinner, known in her culture as "foo foo." The children take turns eating at the small dining table.
Monique's children are mastering English much faster. She can count to 10, but is too shy to recite the numbers. Then, she says bashfully, "go, come," revealing some of her new vocabulary.
Monique has found a Baptist Church she wants to attend. But she says she is feeling isolated here, with no friends to talk to, only her children.
Still, she harbors no illusions about returning home.
"The same president (Bozize) who started the trouble is still there," she says.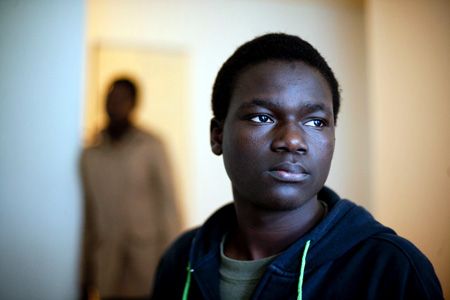 Tribune Photo: Christopher Onstott • Ndikidjang Jr., 15, is the eldest son now, after his father was killed and older brother went missing during a violent power struggle that spread to their village in the Central African Republic.
Modern refugee era begins
The first big wave of official refugees to Oregon arrived in 1975, when tens of thousands of people began fleeing Vietnam, Laos and Cambodia by boat. As those ethnic groups were established here, they became a magnet for other refugees who might be relatives or associates back home.
Since 1975, Southeast Asians have accounted for close to half the refugees settled in Oregon. One of those 1975 "boat people" from Cambodia, Sokhom Tauch, went on to become executive director of IRCO.
After the fall of the Soviet Union in 1991, there was a surge of refugees from Russia and the former Soviet republics to Portland. Cumulatively, they account for the largest bloc of refugees here, followed by Vietnamese.
As crises erupt around the globe, the mix of refugees here grows more diverse: Haitians, Bosnians, Rumanians, Burmese, Bhutanese. There's been an increasing number of refugees from Somalia and elsewhere in Africa -- so many that IRCO raised money to form Africa House, a place for specialized services for people from throughout the continent.
"It's a challenge when refugees come here with zero English, some with zero urban living experience, and some have never worked for pay before," says Djimet "Jimmy" Dogo, director of Africa House in East Portland.
Finding work
Oregon historically has provided a home to a greater-than-average share of refugees compared with other states. However, the number and overall share have dipped in recent years. One reason is that job placements have been more difficult here with such high unemployment, Tauch says.
The United States also has tightened security requirements since the Sept. 11, 2001 terror attacks. And Congress recently lowered the nation's quota for accepting 2012 refugee placements from 76,000 refugees to 60,000, Tauch says.
Most of the jobs arranged for refugees are entry level. Even refugees who are skilled professionals with advanced degrees often can't land comparable work in the United States, Tauch says.
One of IRCO's new initiatives is providing "microenterprise" loans to help refugees start small businesses, such as in-home day care centers.
Refugees rarely go back to their home country, Tauch says, but they do move around once they're here, especially to find work. In January, a recruiter came to town and offered seasonal jobs to 52 Portland-area refugees at a Kodiak, Alaska, cannery, Tauch says. Last year, a Nebraska employer offered 100 permanent jobs to local refugees.
Monique says she'll do any work she's offered.
Refugees are often known for their strong work ethic and motivation to succeed.
Many had to fight years to get here, Baricevic says. "They've been standing in a lot of lines and they've been waiting and waiting, and they survived."
"They're used to a harder life back in the camp when they escaped," Tauch says. "How long it takes, we don't know, but they will make it."
---
• Find out more:
United Nations refugee efforts: www.unhcr.org
State website on refugee services: www.oregon.gov/DHS/assistance/refugee/service-areas.shtml
IRCO: www.irco.org; 503,234-1541; 10301 N.E. Glisan St., Portland.